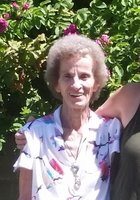 Dorothy Alice Hegie
Dorothy Alice Hegie (80) resident of St. Maries, ID passed away on September 15, 2017. She was born to David and Lucy Stoner on December 16, 1936 in East Waterford, PA. Dorothy grew up in Mifflin, PA, and on October 24, 1953 she married George Hegie in Mt. Vernon, PA.
Over the years, the couple have lived in Helena, MT, Livingston, MT, and Bozeman, MT, while George was stationed throughout the Far East and Continental U.S. Dorothy stayed home to take care of the family home and her children. Belgrade, MT was George and Dorothy's home for 30 years before they moved to St. Maries in 1991. Dorothy was an avid reader and enjoyed cooking.
Dorothy is survived by her husband George at the family home; son George (Luann) Hegie III; daughters Barbara (Dean) James of Tulsa, OK, Debbie (Dan) Stephens of Hillsboro, OR; brothers Larry Stoner of Helena, MT and Blair Stoner of Ft. Worth, TX. She is also survived by 7 grandchildren and 10 great-grandchildren. Dorothy is preceded in death by her parents, daughter Tammie Teal, and 11 brothers and sisters.
At her request there will be no services.