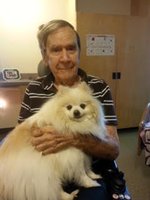 Milton J. Swatman
Milton J. Swatman (82) resident of St. Maries, ID passed away on September 27, 2017 in St. Maries. He was born to Mark and Mabel Swatman on December 20, 1934 in Emida, ID. Orphaned at a young age, Milton spent time with his family in the Potlatch, ID area and Orofino, ID. While in Orofino, he went to work in his Uncle Jesse's restaurant.
Milton relocated to St. Maries, ID where he went to work for the Forest Service. One day he was hitch-hiking back to his work's camp, and he met Margaret Pryne in the vehicle that picked him up. The couple started dating and married on May 16, 1952 in St. Maries.
The man was diverse in his many talents, and held several different jobs within the mills, mines, garnet mill, and truck driving. Milton's employment took him and his family to California, Washington, Montana, and Idaho. His health forced him into retirement. In his retirement he enjoyed watching westerns and socializing with the guys over coffee at Drifters in Emida.
Milton is survived by his daughter Joyce Daniels of Cheney, WA; sister Marie Shepherd of St. Maries, ID; and brother Norman Piper of Onaway, ID. Also surviving are his son in-law Frank Michael, daughter in-law Redella Swatman, 6 grandchildren, 7 great-grandchildren, 1 great-great grandchild, and numerous nieces and nephews. He is preceded in death by his wife Margaret Swatman, daughters Doris Michael and Carol Jean Swatman, son Samuel Swatman, sister Maxine Caswell, brother Delmar Swatman, and great-grandchild Jamie Jarvis Swatman.
A memorial service to celebrate the lives of Milton and Margaret Swatman will be Sunday – October 8, 2017 at 4:00 pm at the Emida Community Center. A Potluck gathering will follow.