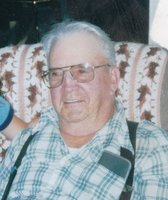 George Edward Way
George Edward Way Jr. (91) longtime Plummer, ID resident passed away at his home on October 8, 2017. He was born in Yakima, WA on January 17, 1926 to George and Cressie Way. At the age of 5, the family moved to the Minnaloosa Valley near Plummer, ID. He left school to join the Navy serving aboard the U.S.S. Iowa in WWII. After his discharge from the Navy, he became a self-employed logger and he was quite successful.
On January 10, 1948 George married Lois Moran in Coeur d' Alene, ID. The couple was married 40 years before her death in 1988.
Something special with George is he always hand-picked his children and grandchildren's birthday and anniversary cards. He would read every card until he found the perfect one. George enjoyed fishing, hunting, going for drives, watching the news, and watching game shows. Most importantly, he loved his family. His home was the gathering place for holidays and get togethers.
George is preceded in death by his wife Lois, 1 brother, 2 sisters, his parents, son Kim Way, daughter Zan Salerno and Penny Hall, and grandsons Aaron Way and Jason Way. He is survived by sons Lonnie Way and wife Joan of Potlatch, ID, Terry Way of Plummer, ID, daughter Jill Ingalls and husband Don of Post Falls, ID, 10 grandchildren, 18 great-grandchildren, 1 great-great grandson, and 2 step-grandchildren.
At George's request, there will be no services. Donations may be made to the American Legion of Plummer or Make A Wish Foundation – 104 S. Freya St. Spokane, WA 99202.