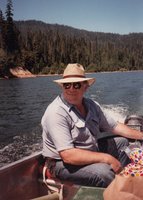 Don A. Darter
Don Darter, 79, longtime St. Maries resident, teacher, coach, and real estate salesman died November 20th, 2017.
Don was born on September 13, 1938 to Mary and Alvin Darter in Douglass, Kansas. He attended high school there and was a member of the football, wrestling, track, and basketball teams. Don earned a football and wrestling scholarship to Kansas State University where he played left tackle for the Wildcats as well as wrestling as their heavyweight. He was an All-American, winning third in the NCAA as heavyweight in 1959. He graduated in 1961 with a BS in Physical Education and Science.
Don married Martha Condell in 1960 in ElDorado, Kansas. He taught and coached eight-man football in Wakefield, Kansas until they moved to Quapaw, Oklahoma where their daughter, Jodi, was born. Don and Martha taught and coached in Quapaw and Douglass then decided to travel west in search of teaching jobs. They landed in St. Maries 1968 where they both got jobs and fell in love with the area.
Don coached wrestling and football in St. Maries as well as being vice-principal and teaching Science, Psychology, P.E., and in later years developed an Outdoor Education class where he taught students fly tying, ice-fishing, reloading, and other outdoor skills. Don received his real-estate license and sold real-estate part time while teaching until he retired from SMHS in 1980 and became part owner in Two Rivers Realty. He later had his own office working in connection with Century 21, Coldwell Banker, and eventually Two Rivers Realty until his final retirement in 2010. He was a member of the Eagles, Kiwanis, and St. Joe Snow Riders. Don loved football, wrestling, hunting, fishing, horseback riding, camping, snowmobiling, four-wheeling, country music, his poker buddies, his wonderful friends and family.
He is survived by his wife of fifty-seven years; his daughter Jodi and son-in-law Bunky Schiermeister, and his beloved grandson, Jesse. He is also survived by his sisters- and brothers-in-law, Susan and Sam Stone of Tulsa, Oklahoma and Nancy and Bob McWhorter of Longmont, Colorado; his niece Sara (Steve) Finch, of New York City; his nephews Gavin (Jaymi) McWhorter of Greeley, Colorado and Colin (Marcy) McWhorter of Orlando, Florida along with numerous cousins and their families around his hometown.
A celebration of his life will be held at the Eagles on Saturday, November 25 at 2:00 p.m.