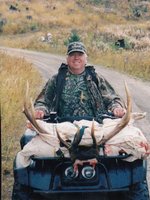 John Harrison Blackburn
John Harrison Blackburn (62) passed away at his home in St. Maries, ID on December 13, 2017. He was born to Berhl and Joann Blackburn on March 6, 1955 in Boise, ID. John grew up in Petaluma, CA. He later moved with his step-mother to Orofino and graduated from Orofino High School with the class of 1973.
Following high school, John went to work for Potlatch's JP Mill in Pierce, ID. On a night in Lewiston, ID he met JoAnn Picavet through mutual friends. The couple married at the Assembly of God Church in Lewiston, ID on March 14, 1981. They lived in Clarkston, WA when they started their family. John attended college at the University of Idaho in Moscow, and obtained his BA in Accounting graduating in 1993.
In 1989, the Blackburn family moved to Pierce, ID. They lived there for 11 ½ years before John's job relocated him to St. Maries, ID where he continued working for Potlatch, and served 44 years in total for them.
John was an avid outdoorsman. He loved everything the outdoors had to offer including hunting, fishing, camping, hiking, and riding 4-wheelers. His children were his world and he was blessed when his grandchildren were born, he loved them very much.
John is survived by his wife JoAnn at the family's home; his sons Wes (Sam) Blackburn of McCall, ID and Joseph Blackburn of Challis, ID; his grandchildren Abigail Lynnette Blackburn and Hailey Kathleen Blackburn of McCall, ID; his mother Joann Cox of Clearlake, CA; and his sister Sharon Williams of Clarkston, WA. He is preceded in death by his father Berhl Blackburn, daughter Stefanie Lynnette Blackburn, step-mother Georgia Blackburn, and brother Claude Berle Blackburn.
A Celebration of Life to share a meal and fellowship will be held at the Elks Lodge in St. Maries, ID on Saturday January 20, 2018 at 1:00 pm – 5:00 pm.