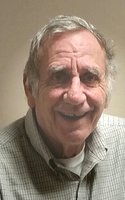 Harry "Bud" Abel Long
Harry A. (Bud) Long passed away December 18, 2017 at Valley Vista in St. Maries, ID at the age of 78. Bud was born to Harry and Hazel Long July 15, 1939. His first marriage ended in divorce. That marriage produced one son and 3 daughters.
Bud married Shirley Lobe February 5, 1979. In his early career, Bud was a Truck Driver for various companies. Bud and Shirley traveled together all across the country. Bud then went to work for Whitman Farms for many years, retiring in 2014. Bud is survived by his wife Shirley, one son Mike (Susan) Long, daughters Michelle McCowan, Melanie DeLyria and Nicki Long. He is also survived by 4 stepdaughters Debbie (Steve) Eikum, Cindy (Wes) Ison, Kris (Byron) Simmons and Karla (Tom) O'Malley, as well as one sister. Bud also leaves behind the lights and loves of his life: 21 Grandchildren and 39 Great-Grandchildren. Bud was preceded in death by 2 Grandsons, his parents, and 8 siblings.
There will be a Celebration of Life Saturday December 23, 2017 at the Eagles – 1304 Main Street Lewiston, ID at 12:00 pm.