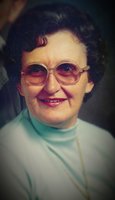 Arlene Hope Pentland
Arlene Hope Pentland (94) resident of St. Maries, ID passed away on December 30, 2017. She was born to Carl and Elsie Guenther on July 31, 1923 in Faulkton, SD.
Due to the drought in the Dakota's, Arlene's family left the Dakota's and relocated to St. Maries, ID in 1939. In 1941 she married William Pentland in Genesee, ID. The couple had 9 children between them, and she raised her sister Bonnie from 7 months old.
Arlene enjoyed bowling, music, and crochet. She was a great mother who always put her children first. She always had a warm home with a good hot meal on the table. She also enjoyed spending time with her husband whether it was working outdoors gathering wood, gardening, or going dancing. Arlene lived a wonderful life and was a successful mother, friend, and senior companion. She retired at the age of 80.
Arlene is survived by her son Don (Connie) Pentland of Mt. Home, ID; daughters Kathryn (Wayne) Thorhaug of St. Maries, ID, Betty Pentland of Missoula, MT, and Elsie (Bill) Douglas of Libby, MT. She is also survived by her brother Fred (Martha) Guenther of St. Maries, ID and sister Bonnie (Ed) Haskins of St. Maries, ID; 31 grandchildren, 25 great-grandchildren, and numerous great-great grandchildren. She is preceded in death by her parents, her husband William, her sons David Pentland, William Pentland, Ernie Pentland, Ronald Pentland, and Jim Pentland, brother Don Guenther, and sister Betty Kingsley.
A memorial service will be planned at a later date and time to be announced.