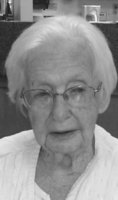 Helen Jane Mueller
Helen Jane Mueller (101) passed away at her home in St. Maries, ID on December 30, 2017. She was born at Lethbridge, Alberta, Canada on January 21, 1916 to James and Alverna McWilliam joining her brother Jack. The family moved to Medicine Hat, Alberta, Canada where she attended first through third grade.
The family moved to San Francisco, CA and she attended fourth grade through twelfth grade, graduating in 1935 from Galileo High School. She attended a business school for two years and then went to work as a bookkeeper for her father, James who owned a parking garage.
In 1937, Edwin A. Mueller Sr. went down to San Francisco to attend a Bible Conference where he met Helen. They were married January 6, 1939 at Berkeley, CA and made their home in St. Maries. She was the love of his life.
On October 9 and 10, 1939, Helen gave birth to twins: Alverna and Edwin Jr. Helen's most rewarding job was being a stay-at-home mom. She enjoyed the flower gardens in their yard, canning the variety of vegetables that Edwin grew in their garden, knitting afghans and needle point. Helen spent 15 years walking up Capital Hill to Valley Vista helping with crafts and styling the ladies hair every day.
Helen found peace and joy through her belief in Jesus Christ and was an active member at the Omega Gospel Hall. The joys of her life were her seven grandchildren who she is survived by, Michele Dirks, Debra Lybyer, Doran Thomas, Randy Mueller, Richard Mueller, Liesa Mueller, and Jim Mueller; 18 great-grandchildren, and 7 great-great-grandchildren. Also surviving are her children Ed (Cindy) Mueller Jr. of China Grove, NC and Alverna (Chuck) Thomas of Moscow, ID. She is preceded in death by her parents, her husband Edwin Mueller, and brother Jack McWilliam.
A funeral service will be Friday January 5, 2018 at 1:00 pm at the Community Presbyterian Church in St. Maries, ID. Interment will follow at Woodlawn Cemetery in St. Maries, ID with a gathering of family and friends to share a meal at the Community Presbyterian Church. Memorial contributions may be made to the Omega Gospel Hall c/o Dennis Ducommun, 4403 St. Joe River Road, St. Maries, ID 83861.