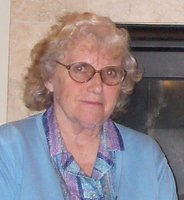 Joan F. Buck
Joan Forrest Harper Buck, 81, resident of St. Maries Idaho died Tuesday, January 16, 2018 at Valley Vista Care Center. Joan and her twin brother John were born to Leon and Mabel Harper October 12, 1936 in SeattleWA. With their father stationed in Alaska at that time as part of the Army Signal Corp, news of their birth was announced via radio across the state of Alaska causing them to be well-known.
Joan had three other siblings that were older, and she became an aunt for the first time at seven months old. She spent a lot of time with her nieces and nephew, and shared a special sister like bond with her niece Mary Roberts. She grew up in the Puget Sound area, graduating from Peninsula High School in 1955. Joan enrolled in nursing school for the fall, but she met her future husband that summer. Joan married Norman Buck September 2, 1955. She soon stopped nursing school and focused on her marriage and family. They welcomed their first child Robert in June of 1956.
Joan loved being a wife and mother. Cheri and Tamara soon joined the family. Debbie followed a few years later. The family moved often while Norm worked for Boeing, until they settled in Bellevue, WA in 1968. It was here in 1971 their last two children, fraternal twins like their mother, were born. Rick and Robyn were the delight of the neighborhood.
Joan loved her babies more than anything; she loved to hold them, rock them and read to them. Her heart broke in 1974 when her firstborn son Robert died. She never recovered from that loss. She and her husband divorced a few years later. Joan's joy for life got a boost with the birth of her first granddaughter, Tiah Nicole in August 1980. In 1987 her second granddaughter Amanda(Mandi) Marie was born. Joan loved her granddaughters and shared many special traditions with them.
Joan joined the payroll department of the Kingdome in the 1980s, and she was well known for her love of the Seattle Mariners and Seattle Seahawks. She proudly wore her "Mariner Blue". She was very proud when granddaughter Mandi became a SeaGal, a Seattle Seahawk's Cheerleader. Joan was an active member of Beta Sigma Phi Sorority in Bellevue, WA for years. She treasured this time and made many wonderful life-long friendships.
Joan took early retirement to move to Ocean Shores to help her sister Dorothy. Together they managed Dorothy's gift shop Lil' Iodines. Dorothy later sold her shop, and Joan returned to Redmond, WA. In 2005, Joan moved to St. Maries, ID to live near her daughter Debbie's family. Joan loved these years spent watching her grandson Jackson in all his sporting events. She found special joy volunteering at the daycare at Valley Vista. During these years she served happily as a baby whisperer; holding and rocking babies for hours.
After a stroke, Joan moved to Valley Vista Assisted Living Apartments. In 2011 advancing Alzheimer's disease forced her placement in full care. Joan spent just over 7 years at VVCC, where the caregivers loved her and became her extended family. Joan would light up when greeted by her favorites; this brought much comfort to her family, knowing that she felt happy and loved. Joan passed away peacefully at Valley Vista secure in her love and belief in her Savior Jesus Christ.
Joan was preceded in death by her parents Leon and Mabel Harper, her siblings Virginia Roberts, James Harper, Dorothy Frizzell and her twin John Harper, her son Robert Eugene Buck and her daughter Robyn Michelle Buck. She is survived by her Daughters Cheri (Mike)Garrison of Edgewood WA, Tamara (Darin)Edwards of Bellevue WA, and Debbie (Dale)Pritchard of St Maries ID; her son Richard Buck of Portland OR; granddaughters Tiah (Chris)Godfrey of Austin TX, Mandi Koch of Dallas TX, and Brianna Buck of Peoria AZ; grandson Jackson Pritchard of St Maries ID, and great-granddaughters Taylor Pate Godfrey, Natalie Godfrey and Danielle Godfrey all of Austin TX. She also has numerous nieces, nephews and life-long friends she leaves behind.
There will be a memorial service at Valley Vista Care Center on Wednesday January 31st at 2pm. A family service will be held in Bellevue, WA this summer.