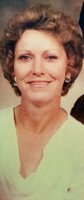 Juanita Grace Nigh
"Amazing Grace"
Juanita Grace Nigh (75) resident of St. Maries, ID, died peacefully at her home on Jan.19, 2018. Grace was born Feb.17, 1942 to Cisro (Jack) and Nellie (Miller) Baskett in Lawton, OK. She grew up and attended school in Lawton. Grace married Ronald Blodgett Oct. 23, 1965 at Coeur d' Alene, ID. Grace worked as a waitress for Pat and Scott's Restaurant as well as the Handi Corner in the late 60's. She also assisted her sister Margie who worked as a cook and waitress at the Kootenai Inn. From 1971 to 1975 she worked with her best friend Ruby as a custodian for the St. Maries School District. Ronald died in a logging accident in 1982. Grace Married John Nigh Oct. 4, 1982 at St. Maries. They made their home in Harrison, and retired to St. Maries in 2002.
Grace loved being with her family. Her children and Grandchildren were her world and it revolved around them. To her grandchildren she was, Grandmother or Sugar. To her Great grandchildren and great-great grandchild she was "Mema". One of Grace's greatest moments was being present for the birth of her youngest great grandson Gage's Birth. Grace loved traveling. She and John (Papa) took many trips back to Oklahoma, Wisconsin, and El Paso, TX for summer visits to see family, with children, grandchildren and great-grandchildren in tow. Grace also enjoyed making quilts for her children and grandchildren. She loved scary books and movies. Grace loved going to the theatre to see the scary movies on the big screen, just never by herself. Grace drove the family car as an ambulance many times delivering her grandchildren to the emergency room for stitches, X-rays, and casts over the years as she found they were hazardous to themselves. She even had to drive it for herself once, when she "scoped" herself while deer hunting. Other interest included shopping for almost anything and baking delicious foods for her family. She was famous for her 4 layered dessert at family gatherings.
Grace is survived by her loving husband John at the family home. She is also survived by her Sister Evelyn Wiersema of Lawton, OK. Also surviving is her son Troy Green Sr. and his companion Jannette Walker, and son and daughter in law Spencer "Leo" and Alicia Blodgett all of St Maries,ID. Also surviving are Step daughter Michelle and Doug Howarth of El Paso, TX. Grace (Sugar) is also survived by her grandson and granddaughter in law Troy Jr. (TJ) and Jessica Green who she thought of as her own children. Grandson and granddaughter Anthony and Alyssa Green both of Pullman, WA. Granddaughter and grandson Kayla and Gregory Howarth of El Paso TX. Grandsons Kyle, Mitch & Cody all of Oregon. Grace (Mema) is also survived by her Great grandsons Austin and Gage Green. Great granddaughter Rebecca Green, and Great Great grandson Greyson Lewis, all of St Maries. She is also survived by numerous nieces and nephews. Grace was preceded in death by her Mama and Daddy, brothers Jack and Floyd "Buddy" Baskett and sisters Margie Bonds, Helen Thatcher, Bertha Jackson, Wanda Blodgett and Shirley Williams.
Services will be held at a later date to be announced.