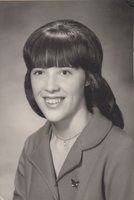 Ethel "Tillie" Marie Norton
Ethel "Tillie" M. Norton (69) passed away at her home on January 22, 2018 after a long and courageous battle with cancer. She was born to Charles and Phyllis Norton on November 8, 1948 in Ephrata, WA. Tillie lived in Ephrata through her Junior year of high school. Her family moved to Priest River, ID and then onto Harrison, ID where she graduated from Kootenai High School with the class of 1967.
After Tillie graduated, her family moved out to the Benewah. She spent 1 year at Spokane Community College in their nursing program. She returned to the Benewah and met Jerry Norton through mutual friends. Jerry and Tillie married on October 12, 1973 and started a family. Tillie was a homemaker and enjoyed being with her children. Once her children were graduated, she went to work for Archie's IGA in the bakery. She worked various sewing jobs. Some were for Ralph Anderson, and some were for Doris Bornitz at The Yardstick. Tillie also worked for Peet Shoe Dryer before becoming a school bus driver for the St. Maries school district where she retired from in 2014.
Tillie enjoyed camping up the St. Joe River, gardening, sewing, and loved having her grandchildren over. She will be missed by all of her family and friends.
Tillie is survived by her husband Jerry at their home; daughter Tammie (David) Wheeler of Rathdrum, ID; son Charlie Norton of Southern California; sisters Nancy (Howard) Gothman of Spokane, WA and Peggy (Frank) Smith of Ephrata, WA; 7 grandchildren; 1 great-grandchild; numerous nieces and nephews. She is preceded in death by her parents, brothers Bill Norton, Dick Norton, and Leonard Norton, and sister Lou Martin.
A potluck gathering of family and friends to celebrate Tillie's life will be Saturday, February 10, 2018 at 1:00 pm at the Masonic Temple (8th Street and College Ave.) in St. Maries, ID.