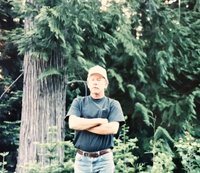 John Milton Peters
John Milton Peters (66) longtime Fernwood, ID resident passed away at his home on January 21, 2018. He was born to Jack and Bonnie Peters on December 15, 1951 in St. Maries, ID. When he was little, the family moved to Hall, MT for work, and then returned to Fernwood. John grew up fishing on the St. Maries River, playing baseball, and riding motorcycles. He attended grade school in Fernwood and high school in St. Maries.
Following high school he enlisted into the U.S. Army. He served 2 years as an Expert Rifleman in the artillery division spending time in Oklahoma and Germany. After his time in the military, he returned to Fernwood, ID. He went to work for Jack Buell Trucking as a Chip Truck Driver and Lowboy Driver. John would tend bar and cook at the Santa Resort on the weekends. This is where he met Mary Peel. The couple married and had son Derek. That marriage ended in divorce. John later married Connie Ebert and they had 2 children, Brian and Kenny. After 20 years, that marriage also ended in divorce.
After 16 years working for Jack Buell Trucking, John decided to go to work for Emerald Creek Garnet. He worked there 14 years before taking a break to work for the State Highway Department plowing snow, and driving truck for Bob Danielson and Pugh Brothers. He returned to Emerald Creek where he retired in 2014.
John enjoyed fishing and shooting. He enjoyed fishing trips to Hells Canyon and Lake Coeur d' Alene. He loved being on boats and around water. His favorite places were the Snake River and Lake Coeur d' Alene. John also enjoyed riding 4-wheelers, carpentry, and wood working.
John is survived by his sons Derek (Andi) Peters of Lewiston, ID and Brian Peters (Amanda Scott) of Fernwood, ID; mother Bonnie Peters of Lewiston, ID; and 3 grandchildren. He is preceded in death by his father Jack Peters, sister Julie Peters, and son Kenny Peters.
A gathering of family and friends is planned for Saturday February 3, 2018 at 1:30 pm at the Fernwood Senior Center. In lieu of flowers, donations can be made to the Julia Peters scholarship fund – Upriver PTO, PO Box 249, Fernwood, ID 83830.