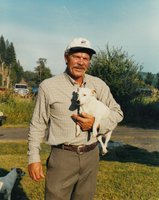 Robert Charles Birdsall
Robert Charles Birdsall (68) longtime resident of Fernwood, ID passed away at his home on February 2, 2018. He was born to Robert and Lillian Birdsall on June 8, 1949 in Walton, NY. As a young child, Bob's family moved to California. He graduated from Awalt High School in Mt. View, CA with the class of 1967.
Following high school, Bob enlisted in the U.S. Navy. He served 6 years in the Navy and spent time in Cuba, Guam, and Jamaica. After he was honorably discharged, Bob returned to California to work construction with his dad in the San Francisco Bay Area. In 1975, Bob moved to North Idaho. He worked various jobs including logging, carpentry, and construction including footings and foundations. When he lived in Fernwood, he worked at Hilltop Cedar, Crockers Mill, Santa Cedar, and Emerald Creek Garnet.
Bob married Lynne Hunter on July 26, 1986 in Coeur d' Alene, ID. He was a skilled carpenter and they built their beautiful home in Fernwood. They later divorced in 1999. Bob was a workaholic and enjoyed it. He also enjoyed taking his boat out, skiing, fishing with his grandkids, woodworking, and making furniture. He enjoyed driving his red Dodge pickup that he kept up for many years. Bob had a green thumb and was a very skilled gardener. He was a member of the Eagles and was an avid pool player. Bob will be missed by his family and friends; he loved his dogs very much and they will also miss him.
Bob's family would like to extend a big thank you to Hospice of North Idaho for the care they gave him.
Bob is survived by his children Caren (Zac) Millikin, Holly (Adam) Bauer, and Jeremy (Sara) Seyferth all of St. Maries, ID, Trish (Dan) Strong of Bremerton, WA, and Daniel Seyferth of Spokane, WA; siblings Bruce (Debi) Birdsall, Kathy Halstead, Aurore (Bernie) Markell, Helen Erickson and Paul Fisher, Barbara (Jimmy) McCart, Archie (Jodi) Birdsall, and Fred (Darcy) Birdsall. Also surviving are 10 grandchildren and numerous nieces and nephews and cousins. He is preceded in death by his parents and his sister Carol Abelow.
A memorial service to celebrate Bob's life will be Saturday February 10, 2018 at 1:00 pm at the Eagles Lodge in St. Maries, ID. A gathering of family and friends will follow at the lodge along with a pool tournament in his honor at 2:00 pm.