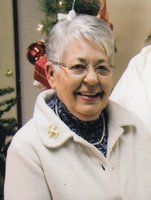 Emmalene Byrl Curtis
We lost our rock, Emmalene B. Wilks-McCall-Curtis (77) passed away at her home on February 3, 2018. She was born to Ivan and Byrl (Taylor) Wilks on February 25, 1940 in Asotin, WA. As a child, Emmy's family moved to Emida, ID where she attended grade school. She graduated from St. Maries High School with the class of 1957. Also in 1957, Emmy married Glenn McCall and the couple moved to Fernwood, ID. They started their family having Della and Brenda.
Emmy was a homemaker and enjoyed staying at home with her girls. Glenn and her owned and operated a gas station in Moscow along with a farm. When Emmy's children were older, she worked for McCall Logging and was a Bartender at the Bohemian Bar in Fernwood. Glenn and Emmy divorced in 1978.
DeWayne Curtis and Emmy married later in 1978. They made their home in Emida, ID where they owned L&W Grocery Store. D&E Horse Ranch was also established where DeWayne and Emmy ran cattle and trained and bred horses. Attending rodeos and horse shows was something the couple enjoyed doing. They were very fond of their two studs Emida King and Skipper Jo. DeWayne passed away in 2002.
Emmy enjoyed spending time with her family and hanging out with her "Gang". She loved flowers and enjoyed gardening. She also loved her pug dogs Teddy, Ginger, and Butch.
Emmy is survived by her daughters Della (Ed) Kennon and Brenda Bittner of St. Maries, ID; bonus daughter Tami (Bob) Gauthier of Plummer, ID; grandchildren Sam (Katrina) Mills, Amber Rimel (Laith Hutcheson), and Karissa (Wayneson) Thorhaug all of St. Maries, ID, Nick Ohlson of Spokane, WA; bonus grandchildren Jennifer Kennon and Paul Kennon of Santa, ID, and Brandon Gauthier, Sara Gauthier, and Ashley Lounsbury of Plummer, ID; great-grandchildren Makenzie Mills, Grant Mills, Macie Rimel, Kammi Rimel, Karson Thorhaug, and Bristal Thorhaug all of St. Maries, ID. Also surviving are her brothers Kevin Wilks, Richard Wilks, and Leonard Wilks and numerous nieces and nephews. She is preceded in death by her parents; husbands Glenn McCall and DeWayne Curtis; sister Irene West; son in-law Jock Bittner; and nephew Paul Wilks.
A memorial service to celebrate her life will be Saturday, February 24, 2018 at 1:00 pm at the Eagles Lodge in St. Maries, ID. A gathering of family and friends to share a meal will follow. Memorial donations may be made to St. Maries Senior Meal Site - 711 W Jefferson Ave, St Maries, ID 83861 or Hospice of North Idaho - 9493 N. Government Way, Hayden, ID 83835.