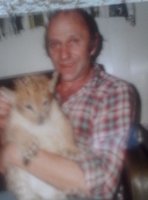 Jack William Edwards
Jack William Edwards (78) longtime resident of St. Maries, ID passed away on March 17, 2018 in Coeur d' Alene, ID. He was born to William and Elizabeth Edwards on November 3, 1939 in St. Maries, ID. Jack grew up in St. Maries and graduated from St. Maries High School with the class of 1957.
After graduating high school, Jack worked in the timber industry. He worked in the local sawmills and logging in the woods. In 1963 Jack attended North Idaho Junior College in Coeur d' Alene, and obtained his AA degree in Industrial Arts. In 1965 he went to work for Boeing, and also worked in construction. He then married Carol Hatton in Coeur d' Alene, ID.
Jack joined the U.S. Merchant Marines where he served on cargo and container ships. He made several trips to Vietnam. He and Carol divorced in 1976. Jack married Jackie Stough in 1977 at Duval, WA. She passed away in 1984. In 1989 he married Evelyn Bright in St. Maries, ID. She passed away in 1996. Jack retired in 2002 and returned to St. Maries, ID.
Jack loved the outdoors and he enjoyed camping, hunting, fishing, and 4-wheeling. He was also a lifetime member of the St. Maries Elks Lodge.
Jack is survived by his son Jack Jason Edwards of St. Maries, ID; daughters Marcie Martin of Ft. Lauderdale, FL and Tammy Martin of Snohomish, WA; 3 grandchildren; numerous step-grandchildren; and numerous nieces and nephews. He is preceded in death by his parents and his siblings Reuben Schierman, Reinholdt Schierman, Lucille Calkins, Richard Schierman, Virginia Schierman, and Earl Edwards.
A memorial service will be Saturday March 31, 2018 at 11:00 am at the St. Maries Elks Lodge. A potluck gathering will follow at the lodge. Side dishes and desserts would be most appreciated.