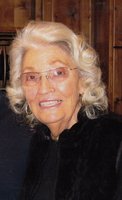 Maxine Fecko
Maxine Fecko passed away on March 22, 2018 after a long struggle with dementia.
She was born May 11, 1933 in Castleford, Idaho, and lived in Plummer, Chatcolet, and Sandpoint, graduating from Sandpoint High School.
Maxine met Ed Fecko when he was a college student at the University of Washington and they married in 1954. When daughter Cheryl was born, the family moved to Phoenix and then to New Jersey where Valerie and Judy were born. They packed up the family in 1958 and moved to a remote area of upstate New York where they bought a run down farmhouse on 135 acres. Maxine spent a good deal of her summers growing and processing food for the family from their farm. She was an excellent horsewoman, served as a lifeguard at the local swimming hole and was a Girl Scout Troop leader. Maxine was also quite an artist, teaching classes in ceramics, pottery and stained glass. She also collected and restored antique furniture and was an avid gardener with a special love of irises.
After 7 years on the farm the family moved to Southern California in 1967, where Maxine started a new career in real estate. After their daughters were grown, Ed and Maxine set off on yet another adventure, moving closer to her Idaho roots. They bought Three Rivers Resort in Lowell, Idaho where Maxine refined her love of cooking. Shortly afterwards, in 1978, they bought the Parkline Supper Club. Many delicious meals were prepared by Maxine, including her famous prime rib dinners, seafood specials, and wild rice pilaf. To watch her work the grill was a sight to behold and a work of art.
Along with running the Parkline, Maxine also opened the Apple Tree restaurant with Betty Irvine in St. Maries, and then Maxine's in Plummer. After 23 years in the restaurant business, Maxine and Ed decided it was time to retire. Maxine appreciated the many friends she made in the restaurant business including the jokes she heard in the kitchen.
Maxine was active in politics, where she organized fundraisers and attended conventions. For a time Maxine was also the mayor of the newly established community of Parkline. She was an avid supporter of the Humane Society and never turned away a stray dog or cat.
Maxine is survived by her daughters, Cheryl Fecko (Doug Rhodes) of Craig, AK, Valerie Clark at the family home, and Judy Dahlgren (Ric Dahlgren) of Stevensville, MT, and Carey Brown of Pullman. Also surviving are two grandsons, Daniel Castillo (Stephanie Castillo) of Florence, MT, Michael Castillo (Heather Matusiak Castillo), of Boise, ID and one great grandson, Brady Castillo of Florence, MT and two nieces, Thea (Nave) Calhoun and Shelley (Nave) Smith. Maxine is also survived by her adopted family, Sean, Mai, and Maki Joslin of Arizona. Maxine was preceded in death by her husband Ed and sister Shirley, and adopted son Robert Joslin. Maxine will be laid to rest with her husband Ed Fecko in the veteran's section at Woodlawn Cemetery.
As per Maxine's wishes there will be no services. Memorials are suggested to Hopes Haven, 53 Robinson Lane, St. Maries, ID 83861 or Alzheimer Organization at www.alz.org
Maxine's daughter's wanted to share these recipes with everyone. They said you may have to scale it down and do the math because they are in bulk; however they want all friends and customers of Maxine's to enjoy!!
Maxine's Original Parkline Recipes
Parkline French
1 51 oz can tomato soup
1 medium onion peeled and quartered
2 large garlic cloves
3 very large rounded spoonfuls of paprika
6 stalks celery
1 T mustard (dry)
1 pkg Sure-gel
1 T salt
3 cups oil
2 T. Worcestershire Sauce
1/4 cup sugar
1/2 cup vinegar
1 tsp. black pepper
Blend the dickens out of it. Serves 500
Blue Cheese Dressing
½ bucket (about 2.5 gallons) mayo
Place in blender:
1 quart buttermilk
3T Worcestershire Sauce
3-4 cups blue cheese
2 T coarse black pepper
2T celery salt
2T garlic powder
2T lemon juice
3 good dashes Tabasco
Blend 6 seconds, add to tub of mayo and stir well.
Add 2 more quarts buttermilk and whisk together.
Wild Rice Pilaf
¼ lb. butter
1 medium green pepper finely chopped
1 med onion finely chopped
¾ cup finely chopped celery
Saute above ingredients
Then add 2 1/2 cups dry wild rice
1 coffee pot of water (about 10 cups)
Cover and bring to a boil and then simmer for at least 1½ hours until rice kernals are fully popped open
Add 4 cups white rice
3 cups water
4 T beef au jus
2 T chicken base
Cover and simmer for about 30 minutes