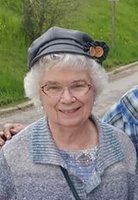 Lela Evalyn (Morris) McCollum
Lela E. (Morris) McCollum was born in 1934 to Everett and Esther (Harkness) Franck in St. Maries, ID. She died March 29, 2018 at Benewah Community Hospital after a brief illness surrounded by friends and family.
When Lela was a small child her mother married Jess Whitehead who helped raise her. When she was 16 years old, Lela moved to Longview, WA to live with her aunt. She graduated from R.A. Long High School with the class of 1952. Following high school Lela attended Seattle Pacific College where she studied home economics. Lela and William Morris were married on April 15, 1954 at Karlsruhe, W. Germany where he was stationed with the U.S. Army.
Following her husband Bill's discharge they moved to Moscow, ID where she began raising her family while he attended the University of Idaho. Three years later they moved to Portland where Bill attended and graduated from University of Oregon Dental School in 1961. The family lived in Hamilton, MT where Bill started his dental practice and she was a homemaker raising her children. In 1964, they moved to the family ranch near Plummer, ID.
In 1968, Lela and Bill opened their dental practice at Plummer. Lela became a certified dental assistant and assisted her husband in his practice. She also was the X-ray tech, Bookkeeper and receptionist. In 1973 they purchased and operated the Plummer Hardware store.
Lela and Bill retired from the dental practice in 1989. Bill served on the Farm Bureau Board of Directors and that allowed them to travel extensively throughout the U.S. to attend conventions and meetings. They also made many trips to visit friends in Europe and enjoyed taking family members with them. Bill passed away in 1997. Lela was honored by Benewah County Farm Bureau as their "Woman of the Year" in 1999. Lela married long time family friend Ernie McCollum in 2007 and he passed away last year.
Lela was a member of the Christian Life Fellowship Church in Plummer, ID where she had served as Secretary-Treasurer for many years, and also did all the flower arrangements for the church. She attended North Idaho College where she took courses in Ceramics and Conversational German. She actively researched family and friends' genealogy for many years and enjoyed talking about the interesting facts she found.
Lela is survived by her sons Bill (Kathy) Morris and Kurt (DeeAnn) Morris of Plummer and daughter Maria Greaney (Steve) Curry of Moscow, ID. She is also survived by her brother John (Linda) Whitehead of St. Maries and sisters Paula (Bob) Johannes of Rochester WA., Dixie (George) Sexton of Rockaway Beach, WA and Pat Eagan of Roanoke, IL.
Lela is survived by 10 grandchildren, 28 great grandchildren, and numerous nieces and nephews who she dearly loved and enjoyed her time with each of them in her last years. In addition to her husbands, Lela was preceded in death by her son Fritz in 1974, brother Jim Whitehead, and sisters Diane Hendrix, Jeanne Miller and Nancy Wadsworth.
A celebration of her life will be held at 10 am, Sat. April 28, 2018 at Christian Life Fellowship, Plummer, ID. A gathering of family and friends will follow at the home of Bill and Kathy Morris. Lela will be laid to rest with her husband Bill in Woodlawn Cemetery in a private ceremony at a later date.