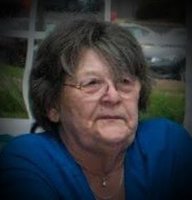 Josephine Alice Kamysz
Josephine A. (Shirk) Kamysz (76) former resident of Lebanon, PA and current resident of Plummer, ID died March 30, 2018 at her home near Plummer, ID.
She was born May 21, 1941 to David and Josephine (Dechert) Katzaman in Myerstown, PA. Josephine grew up in Lebanon, PA. She left school early to go to work for a macaroni factory to help support her parents and family. Josephine married Harry Kreiser in1961 in Lebanon where they made their home and started their family. Josephine and Harry were divorced in 1965.
Josephine went to work as a dispatcher for the Lebanon Area on Aging. She also worked as a cashier for a BP gas station for many years. She married Charles Shirk in 1994 in Lebanon. Josephine then became a foster parent for special needs children. Charles died in 2008, and Josephine moved to Plummer, ID shortly after his death to be near her daughter Earlene. Josephine married Leo Kamysz on Dec. 14, 2014 in Plummer, ID.
Josephine enjoyed spending time on her computer playing games. She also loved playing with her pet Chihuahua's. In her earlier years she enjoyed dancing. Her favorite pastime was spending time with her grandchildren, and you would seldom find her without a grandbaby in her arms.
Josephine is survived by her husband Leo at the family home. Daughter's Earlene (Roy) Williams and Ellen Overbey all of Plummer, ID; sons Harry Kreiser Jr. of Winchester, OR, Russel (Pam) Kreiser of Annville, PA, and Randy Krieser of Hebe , PA. Also surviving are her sister Emma Brenkus of Cheektowaga, NY; 20 grandchildren; numerous great grandchildren; and numerous nieces and nephews. She is preceded in death by brothers Carl, John and Allen Katzaman.
Funeral Services will be Monday April 9, 2018 with viewing from 8:00 to 9:00 am and services at 9:00 am at Kreamer Funeral Home in Annville, PA with burial to follow at Grandview Memorial Park at 10:00 am. A gathering of family and friends will follow services and will be announced at that time. m