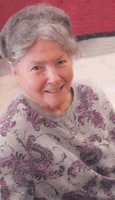 Kathleen Marie Allen
Kathleen Marie Allen (96) passed away at Valley Vista Care Center on April 3, 2018. She was born April 12, 1921 in Scobey, MT. Kathleen grew up near Lakota, ND and graduated high school in Whitehall, MT.

Following high school, Kathleen married Glen Allen on January 8, 1942. They were married for 64 years. She was a homemaker and enjoyed raising her children and managing the duties and challenges of ranch life. The family moved to Bigfork, MT in 1965, and then moved to Deer Lodge, MT in 1976. Kathleen taught catechism to Catholic children for 23 years in the Whitehall, Bigfork and Deer Lodge communities.

Kathleen was blessed with a tenacious spirit, a sense of humor and faith in God that guided her through life's challenges. She was a member of St. Mary Immaculate Catholic Church in St. Maries. She was an avid reader and seamstress. Kathleen and Glen enjoyed camping with their camper and often traveled with it to visit friends and family. Many family gatherings took place on the rivers and lakes of Montana and Idaho. Kathleen's children and grandchildren will never forget her wonderful meals and the laughter shared around the campfires.

The family of Kathleen would like to express our gratitude to her friends at
Valley Vista who not only provided her care, but shared their love and friendship.
Kathleen is survived by her daughters Wanda (Mark) Rotar of Missoula, MT, Glenda (Robert) Benke of Kalispell, MT, and Sandra (David) Gans of Helena, MT; daughter in-law Laura Allen of St. Maries, ID; brother Gerald Collins of Oregon City, OR; 9 grandchildren; 12 great-grandchildren; and 2 great-great grandchildren. She is preceded in death by her husband Glen Allen; sons Wayne Allen and Gerald Allen; brother Robert Collins; and granddaughter Dana Sierer.
A memorial mass will be Saturday, May 19, 2018 at 1:00 pm at the St. Mary Immaculate Catholic Church in St. Maries, Idaho.