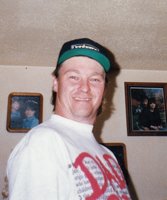 Robert "Scott" Wentzel
Robert Scott Wentzel (54) resident of St. Maries, ID passed away in Coeur d' Alene, ID on April 9, 2018. He was born on August 5, 1963 in Crescent City, CA. Scott grew up in Fernwood, ID attending school through the 8th grade. He went to work in the woods as a logger. He held many jobs and moved around, and then he ended up in Gainesville, GA. In Gainesville, GA he worked at a chicken plant, and that is where he met the love of his life Tammy Strickland. The couple dated for 2 weeks when Scott asked Tammy to marry him, and 6 months later they married on March 2, 1985 in Gainesville, GA.
The couple moved back and forth a time or two between Gainesville, GA, where son Greg was born, and St. Maries, ID, where daughter Crystal was born. Eventually the family made their roots and their home in St. Maries, ID. Scott went to work for various logging companies. He worked for Larry Moe Logging for 20 years, Scott and Son's Logging for a few years, and St. Maries Logging. Scott held various positions including operating a Processor, Faller-Buncher, Skidder, Cat, and was a Sawyer. He loved working in the great outdoors, and took pride in supporting his family.
Scott was a loving father and enjoyed making memories with his children. He was always doing miscellaneous things as needed. He was an avid gun collector, and enjoyed taking both kids hunting, camping, fishing, and 4-wheeling. As a husband, he was a loving and caring man who was always there for his wife Tammy and was her soulmate. Life will not be the same without him, and he will be missed very much by his family and friend for Scott was a great man.
Scott is survived by his wife Tammy at the family home; son Greg Wentzel of St. Maries, ID; daughter Crystal Wentzel of Bovill, ID; mother Phyllis Wentzel of St. Maries, ID; brothers JR Wentzel of St. Maries, ID, Mike Wentzel of North Dakota, Ben (Michelle) Wentzel of Worley, ID, and Pat (Rebecca) Wentzel of North Dakota; sister Cindy Hood of Gainesville, GA; 5 grandchildren; numerous nieces and nephews. He is preceded in death by his father.
A celebration of life will be planned and announced at a later date this summer.