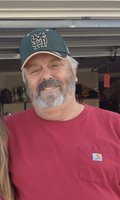 Gary L. Smith
Gary L Smith (Smitty) lifelong resident of St. Maries Idaho passed away peacefully at home on November 28, 2018 at the age of 71.
Gary was born on January 30, 1947 in Hot Springs, AR to Elzie and Edith Smith. The family moved to St. Maries in 1951 where his love of sports was born. He found his passion to be baseball and this continued throughout his life. He was a varsity athlete and graduated from St. Maries High School in 1965.
He then went on to work for Potlatch Corp. until he was drafted into the Army. He enlisted and served 3 years where his Tour of Duty took him to Vietnam and Thailand. Upon returning home he resumed his work at Potlatch and married Teresa Bowman on September 18, 1971. The couple had two children Brenda and Joey.
Gary loved the outdoors more than the indoors. His love of hunting, camping, four wheeling, and the woods kept him very happy. Gary's family was the most important thing to him. He always kept them well entertained with his incredible sense of humor. He loved to spend time around the campfire, whether it be with his lifelong friends or his grandkids roasting marshmallows. Sports took up a vast majority of his life. He loved his Mariners, Seahawks, and Zags.
Gary is survived by his wife of 47 years Teresa; daughter Brenda (Aurin); and son Joey (Miranda). Also surviving are his brothers Paul (Colleen) and Charlie; sister Glenda (Dean); 8 grandchildren; and best friend Tony Rogers.
A memorial service will be Thursday December 6, 2018 at 11:00 am at Hodge Funeral Home in St. Maries, ID. A gathering of family and friends will follow at the Benedictine Hall.