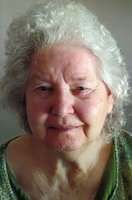 Ida Gladys Seaman
Ida Gladys Seaman (91) St. Maries, ID resident passed away at Valley Vista Care Center on November 30, 2018. She was born to George and Gladys Ricks on October 25, 1927 in Bayard, NE. When Ida was 6 years old, her family moved to Ashland, OR. She graduated high school there with the class of 1945.
Following high school, Ida attended 1 year at Southern Oregon College where she majored in Art. She married Woody Johnston in 1946, and the couple made their home in Ashland. Ida raised her family and worked as a waitress at a drive in restaurant. Woody and Ida divorced in 1959.
Ida moved to Fernwood and married David Seaman. They made their home in Fernwood. David died in 1993, and Ida moved to Valley Vista Care Center in St. Maries, ID. Ida enjoyed art work and growing flowers. Her final resting place will be Riverside Cemetery in Santa, ID.
She is survived by her son and daughter in-law David and Veronika Johnston of Colorado; daughter and son in-law Karen and Bob Hammons of Fernwood, ID; brothers Clarence Ricks and Ben Ricks; sisters Emma McGee and Edna Larson; 3 grandchildren and 4 great-grandchildren. She is preceded in death by her parents, her husband David, and brothers Richard Ricks and Ralph Ricks. At this time, no services are planned.