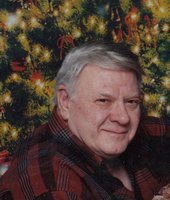 Phillip Allan Robinson
Phil was born in Flint, Michigan on October 14, 1938 to George Leonard and Dessa Sternaman Robinson. He lived in Michigan until moving to Spokane in 1951, and moved to Benewah Valley in 1952 where he attended and graduated from Tekoa High School.
He enlisted in the Air National Guard in 1957 where he served as an Airman First Class.
He worked at Dohrman's mill in Tensed, Hodgson's mill in Benewah Valley, Tom Dorsey Shell station in Plummer, Boeing in Renton, Washington, and then lived and worked in Los Angeles, California before settling in St. Maries in the early 1960's. He worked for the US Forest Service, McLaughlin Motors, Chase Chevrolet, and Potlatch from which he retired in 1998 after being employed for more than 30 years.
While in high school, he played drums in his Mom and Dad's band, Len Robinson's Band at Leo's Club in Worley. He also played at the Elks Club, Eagles Club, and various other locations in the area with the Mavericks.
He met and married his soulmate, Connie Nebel, in 1962. They lived up Cherry Creek for many years where they raised their family and built their home. Phil enjoyed sharing his enthusiasm for stock car races, camping, travelling, and spending time with his kids and grandkids. He retired and he and Connie soon moved to Plummer.
Phil's other soulmates included his 1955 Chevy Hardtop, 1965 Chevy Malibu convertible, Connie's 1955 Ford Crown Victoria, and dozens of other cars too numerous to mention. He belonged to the Road Barons Car Club of Tekoa in the fifties, and joined the St. Joe Valley Car Club and the River Valley Cruzers in his retirement. He entered numerous car shows and other events winning many trophies.
Phil is survived by his loving wife Connie; two daughters Lorinda Wilson of Chilliwack, BC and Diane Tetzner (Randy) of Coeur d'Alene, Idaho; his sisters-in law Amy Robinson of Mercer Island, Washington and Jackie Brown of St. Maries, Idaho; his brother-in-law Jerry Nebel of Coeur 'Alene, Idaho; four grandchildren Regan Wilson, Lance Tetzner, Hayley Tetzner and Kylie Tetzner; nieces and nephews Jason (Rhonda) Nebel, Jamie (Rachel) Nebel, Lori (Jon) Friedman, Lisa Brown, Theresa (Chad) Hammons, and Rick (Destrie) Brown.
He is predeceased by his parents; brother Gerry Robinson; brothers in-law Marvin Nebel, and Richard Brown.
A memorial service will be planned at a later date.