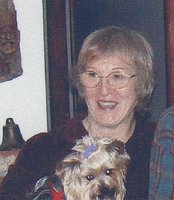 Helen Charlotte Waga
Helen Charlotte Waga (77) resident of St. Maries, ID passed away on December 26, 2018. She was born to Clarence and Alice (Carman) Rickard on June 18, 1941 in St. Maries, ID. Helen loved country music and dancing. She and her husband Frank were members of St. Maries Master Gardner's and gardening was by far her favorite. Cooking and canning also of course! Other hobbies were sewing, crocheting, and knitting. Helen loved to laugh and her family all enjoyed that with her.
As a young child, she was often called upon to take care of her siblings, but the outdoors was where she loved to be, walking, hiking, and swimming.
Helen is survived by her husband Frank at the family home; her two sons Frank and Michael; 2 grandsons, and 5 great grandchildren. Also surviving are her mother Alice Rickard, 4 siblings, 1 sister in-law, and 1 brother in-law. She is preceded in death by her father Clarence Rickard and daughter Lisa Marie. At her request there will not be services.