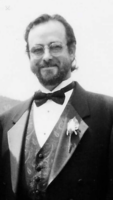 Charlie Eugene Warren Jr.
Charlie Eugene Warren Jr. (71) resident of Fernwood, ID passed away at Benewah Community Hospital on Monday, January 7, 2019 of natural causes.
The son of Charlie and Billie Warren from Chickasha Oklahoma, he is survived by his wife Molly Warren, brother Larry Warren, and daughter Lisa Marie Osborn. He is also survived by 3 grandchildren.
Charlie graduated from Chinder Vocational School in Stockton and worked as a carpenter in California. It was his dream move to Fernwood, ID and live off the land. He worked for Emerald Creek Garnet Mine for over 20 years. Charlie was an avid outdoorsman who loved fishing, hunting, and cutting wood. Food, wine, and music were also great passions of his. He loved NASCAR racing and his pet dogs Runtly and Prissy. Charlie met his wife Molly in March of 1998, and after years of dating, they were married at the Hitching Post in Coeur d' Alene Idaho on January 18th, 2013. He will be sorely missed by everyone and was known for his kind, loving, and generous nature.
We will always carry your memory in our hearts. A celebration of life will be announced and held at a later date.