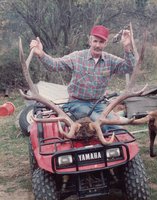 Lee Roy Layton
Lee Roy Layton (79) lifetime resident of Medimont, ID died at his home on January 24, 2019. He was born to Blake Sr. and Elma Layton on January 7, 1940 in Medimont, ID. Lee grew up on Evans Creek and attended school at Rose Lake, Cave Lake, and Kootenai High School. He graduated KHS with the class of 1957.
Following high school Lee started logging. He logged up until retirement in 2004. On February 19, 1997 he married Denise Thompson Russell in Coeur d' Alene. Lee enjoyed working with wood, gardening, barbecues and get together's. He was an avid fisherman and hunter who loved the outdoors.
Lee is survived by his wife Denise at the family home on Evans Creek; children Garry (Lori) Layton, Shelly (Dave) Church, Don Knott, Norman Knott, and Gary Knot; brothers Joe (Donna) Layton and Barney (Rosie) Layton both of Medimont, ID; several grandchildren; numerous nieces and nephews. He is preceded in death by his son Larry Knott, brother Blake Layton Jr., and sister Mary Scott.
At Lee's request there will be no services.