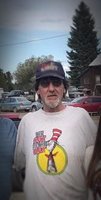 Bobby Reid
Robert Joe "Bobby" Reid (58) resident of Emida, ID passed away at The Schneidmiller Hospice House on February 28, 2019. He was born to Joe and Patricia (Johnson) Reid on February 1, 1961 in Walla Walla, WA. Bobby attended school in Emida, Fernwood, and St. Maries. In 1985 he married Shelley Croson; they later divorced. They had one daughter, Kari Ann Reid. Bobby supported himself by working in the woods. He ran a skidder and was a sawyer for Gil Fritsche. He then went to work for Kelly Ragan, and in the late 1980's he drove log truck for Jack Buell and Lowry Trucking. He ended up leaving the industry because of some severe medical issues. Bobby was an outdoorsman who enjoyed hunting, fishing, and 4-wheeling. He was always ready to give out a hug to anyone that needed one.
Bobby is survived by his dog Spike; brothers James (Marion) Reid of Boise, ID, Byron Reid of Post Falls, ID, and Don "Putt" Reid of Potlatch, ID; sisters JoAnn Peters of Walla Walla, WA, Susie Sibert of Idaho Falls, ID, Colleen "DeeDee" Short of St. Maries, ID, Mary (Fred) Bell of Watford City, ND, and Mikki Reid of Vancouver, WA. Also surviving are numerous nieces and nephews. He is preceded in death by his parents Joe Reid and Pat Lewis; daughter Kari Ann Reid; and grandmother Lillie May Kirkwood.
A private memorial service for family and friends will be held at a later date.