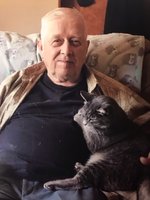 Donald Simundur Simundson
Donald S. Simundson (84) resident of St. Maries, ID passed away at Valley Vista on March 7, 2019. He was born to Simundur and Christine Simundson on June 29, 1934 in Walhalla, ND. He grew up in North Dakota, and when he was in 11th grade the family relocated to Coeur d' Alene, ID. Don left school and enlisted with the US Army serving 2 years. When he was honorably discharged, Don worked for Potlatch and a couple of the other mills in the area. He also attended North Idaho College pursuing education in welding and mechanics.
Don met Rose Scaley and the couple married in November of 1957 in Coeur d' Alene, ID. The couple moved to Harrison, ID where he drove school bus, and worked as a mechanic for a gas station in downtown Harrison. Don was hired by the State of Idaho Highway Department, and he moved his family to St. Maries, ID. There was an opening for a full-time position at the State shop near Santa, ID, so the family moved there. In 1996 he retired. Don enjoyed riding motorcycles, bicycles, 4 wheelers, skiing, camping, and traveling.
Don is survived by his son and daughter in-law Dion and Lesly Simundson of St. Maries, ID; daughter and son in-law Kim and Jim Bentcik of St. Maries, ID; brother and sister in-law Richard and Sally Simundson of Coeur d' Alene, ID; 4 grandchildren; and 4 great-grandchildren. He is preceded in death by his wife Rose Simundson and his parents.
A private service was held on Monday March 11, 2019 at 11:00 am at Woodlawn Cemetery in St. Maries, ID. The family suggests memorial donations to be made to Hospice of North Idaho or Hopes Haven.