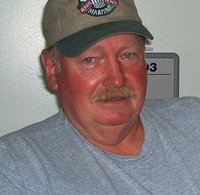 Timothy Thomas Thomson
" Tugboat" Tim Thomson (77) of Rose Lake ID passed away March 24, 2019 at Valley Vista Care Center due to an extended illness .
Tim was born to David and Eva (Gross) Thomson on February 20, 1942 in Hayden Lake, ID. Tim attended school in Hayden Lake and in Coeur d Alene. At the age of 14, Tim went to work to help his family before joining the Navy at the age of 22. In the Navy, Tim ran crash trucks in Key West Florida and later ran supply boats back and forth to ships stationed in the Philippines where he received his captain license. He was Honorably Discharged in 1969.
Tim married Linda Henderson in 1969 and the couple had 2 children, Chad and Anissa. In the early 70's Tim went to work for Lafferty, running the tug boats that carried logs down the river from St Maries to the Coeur d Alene mills. To be closer to his work, Tim moved his family from Rathdrum to Rose Lake to a beautiful ranch property that the family fell in love with and started the rancher life by hand building his log home and completing the ranch with several horses. Tim and Linda divorced in 1981.
Tim continued to work the Tug Boats, until his "retirement", which was when the mills stopped dumping logs in the river at St Maries. Tim enjoyed his retirement by way of tending to the ranch and caring for his horses which he loved dearly.
Tim is survived by his children Chad (Tina) Thomson of St. Maries, ID and Anissa (Jim) Ferguson of Minot, ND. He is also survived by his siblings Pat (Wally) Perry, Janet (Pat) Braden, Dave Thomson, Steve Thomson, Mike Thomson, and Diane Olson; 8 grandchildren; numerous nieces and nephews. He is preceded in death by his parents; siblings Marina Schnieder, Dan Thomson, Angela Thomson, Virginia Thomson, and Koster Thomson.
A memorial will be planned for a later date.