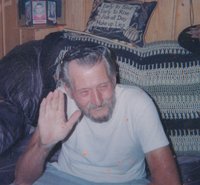 Raymond E. Lockett
Raymond E. Lockett AKA (Rat-Chit) left us on March 27, 2019. He was born on August 6, 1939. Trucking was his life from Prudoe to Mexico to LA to New York, and the 3 or so decades with Jack Buell and sons.
Ray has one sister still with us Judy Thornton-Haley. He had 3 kids with Paige, Tim Lockett of Kendrick, ID, Toni Locket and Craig Brudley of Mt. Vernon, WA, Trina Snyder and Tony of Kendrick, ID.
Memorials may be sent to Carol Collins c/o Hodge Funeral Home 138 S. 8th, St. Maries, ID 83861, or take a $10 and have a cold one at Joe's Bar in St. Maries, ID. All the wrongs forgotten, and all the good remembered. Will miss you old man!
At Ray's request there will be no services.