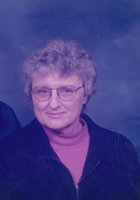 Terry Gail Ryle
On March 26, 2019, Terry Ryle beloved mother, daughter, sister, grandmother and wife passed away. She was born to George and Lucille (Evans) Feazelle on November 22, 1941 at the old St. Maries Hospital on College Ave joining her sister Frances.
Terry went to school all 12 years in St. Maries. While in high school she worked as a Nurses Aide at the hospital. She then went to Minneapolis to train as an Office Nurse. She then worked for Dr. Robuck where the old clinic was. She also worked at city hall until she retired. Terry and Bob Ryle were married in June of 1961. Their son Rick was born in May of 1965. Their daughter Amanda was born March 1970.
Terry loved gardening and tending to the yard with her husband. She was an avid reader and she played Bridge twice a month. Terry and Bob have 7 grandchildren and 1 great-grandchild.
A memorial service will be Thursday, April 4, 2019 at 11:00 am at the Elks Lodge in St. Maries, ID with Deacon Floyd Turner officiating. A gathering of family and friends will follow at the Elks.