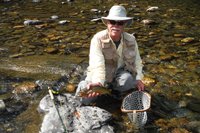 Billy David Hollingsworth
Billy D. Hollingsworth was born October 30, 1944 in Dallas, Texas and died May 19, 2019 in the Hospice Schneidmiller House from cancer. He was the first born of J.C. and Audrey Hollingsworth. Billy married his high school sweet heart, Sandra V. Hedge, in 1964. They had two children Jon Christopher and Jennifer Lea. They later divorced. Billy married Barbara Barnes and they later divorced. Billy married Margaret Nelson who is his surviving spouse. He has eleven grandchildren.
Billy served in the U.S.A.F. over 20 years before retiring with honors. Billy started his second career working for Hughes Aircraft Company in Las Vegas, Nevada in 1984. In 1997, he and Maggie came to Harrison, Idaho to pursue their passion FLY FISHING.
Billy was preceded in death by his parents, his son, his sister, and the mother of his children.
Billy, through his work, became a man of distinction, bringing a sense of pride to his parents and family. The "bright spot" in his life was watching his daughter mature into a educated businesswoman, devoted mother and loving wife.
His legacy will always be his SMILE. His ashes will be privately scattered.
Fish in peace my Dear!