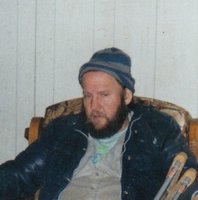 Dennis Gordon Hill
Dennis Gordon Hill passed away in Plummer, Idaho, on June 6th, 2019. He was the last child born to Homer R Hill and Frances (Husband) Hill in Longview, Washington, on August 6th, 1954. Born with Cerebral Palsy, he had a lifelong battle with his health. The family moved to St. Maries in 1956 and he lived in Benewah County the rest of his life. He graduated from St. Maries High School in 1974.
Dennis worked for a time at Potlatch Complex and Regulus Stud Mill in St. Maries until his was totally disabled. He loved being in the woods and continued to get his own firewood. Dennis was a good cook and was the keeper of the family recipes. He liked to socialize and if you knew him soon recognized that he had a very colorful vocabulary.
Dennis had no children and was married briefly. He is survived by his brother Larry (Chris) Hill of Coeur d'Alene, Idaho and a sister Glenda (Clarence) Hart of Moscow, Idaho. He is also survived by numerous nieces and nephews and great nieces and nephews. He was predeceased by his parents, his bothers Edward E Hill and Robert J Hill and also a sister, Lizabeth Zuckerman, whom he never met.
Cremation has taken place and his ashes will be spread up Marble Creek.
A memorial potluck picnic will take place on Sunday, June 23rd at Aqua Park in St. Maries at 1 PM. Please bring a dish to share, your preferred beverage and your best memories.