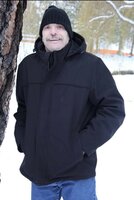 Larry Allen Joines
Larry Allen Joines (54) Post Falls, ID resident passed away at his home on September 12, 2022 after a courageous 15 month battle with cancer. He was born to Irvin and Joyce (Tindell) Joines on November 25, 1967 in Evansville, IN. Larry grew up in Indiana and California before his family moved to St. Maries where he finished his schooling.
Following his time in high school, he worked various jobs in the area including bartending at the Korner Klub. It was actually there where he met the love of his life Debra Duke. They had an instant connection and married on June 26, 2004 in Coeur d' Alene. The couple had daughter Alexis and his son Jesse from a previous marriage. They made their home in Coeur d' Alene, Rathdrum, and Post Falls.
In 2000 Larry went to work at the Coeur d' Alene Casino as a Floor Attendant. He was a very dependable and dedicated employee, and clients of the casino enjoyed visiting with him when they were there. He received a cancer diagnoses in June of 2021 and his failing health forced him to retire after 21 1/2 years of service.
When Larry wasn't working, he enjoyed collecting cars and attending car shows. Most importantly, he loved spending time with his family and his grandchildren were his whole world. Larry was a simple man who enjoyed simple things. He was blessed with the gift of gab, and enjoyed and treasured everyone he visited with making friends with just about anyone who crossed his path.
Larry is survived by his wife Debra at their home in Post Falls; children Jesse (Tasha) Parret and Alexis Joines both of Post Falls; siblings Loretta Joines (Charlie Reynolds), Sandy Jo Dahlby (Larry), and Karen (Randy) Brewer all of St. Maries and Howard (Deena) White of Colorado; in-laws Brad (Nita) Duke of St. Maries, Theresa (Allen) Perkins of Oregon; sister in-law Erica Stockbridge of Post Falls; 4 grandchildren; numerous nieces and nephews. He is preceded in death by his parents Irvin Joines and Jake and Joyce Dahlby, and siblings Travis White, Gene White, Terry White, and Jerry White
A Celebration of Larry's life will be planned at a later date.
Larry's family would like to thank Auburn Crest Hospice for taking great care of him during his last days.