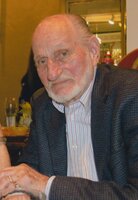 Thomas Douglas DuHamel
Thomas D. DuHamel (91) was born in Chicago and was adopted by Thomas and Merle DuHamel. They lived in Chicago for a few years before moving to Reno, NV. As the Second World War approached the family moved to California where his father worked for Douglas Aircraft.
Tom attended schools in Inglewood, CA and in high school set records in High Jump that stood for 15 years. He received an athletic scholarship from Stanford. Before he could continue his studies, the Korean War intervened and he was recruited by the Navy. He served until January 1954. He moved to Cannes, France where he and a partner started a business.
In 1957 Tom returned to the United States. He married Lila Lee, and they had two children – Tom and Cheri. Tom's career was spent in the Helicopter Industry at Hughes Helicopters. During this time Tom rose up the ranks in the company. During the design and production of the Apache helicopter, he was the Director for three Engineering disciplines.
Tom and Lila were divorced in 1976. In 1978 he married Eileen Lower, and they began a journey that lasted until his death.
In 1986, both Tom and Eileen went to work for a consulting firm which sent them to South Africa for the next few years. They returned to the US and began life on the farm on the Harrison Flats they purchased in 1983 in preparation for the next phase of their lives.
Tom quickly learned the ins and outs of farming, producing hay. There was also time for him to help Eileen with her Llamas. Tom finally retired in 2010, so he wouldn't be tempted to hay again, he sold all of his equipment.
Tom was a member of the St. Maries Elks Lodge and had served as Chaplain and Bar Manager. He also was a volunteer firefighter and was elected Fire Commissioner and was active during the design and implementation stages of the building of the new firehouse in St. Maries. He also served as one of the Directors of Kootenai Electric for three terms and was a CFR with Harrison Ambulance. Tom also enjoyed spending time with the members of the St. Joe River Boat Club on their many activities.
His son Tom died much too young. Tom leaves behind his wife Eileen and daughter Cheri (Steven) and 2 grandchildren – Jocelyn and Steven.
He will be cremated as he wished and did not want any ceremonies.