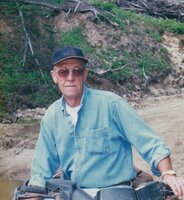 James R. Nilson
James R. Nilson (84) resident of St. Maries, ID passed away at his home on February 19, 2023. He was born to Donald and Mable (Lindblad) Nilson on April 24, 1938 in Bremerton, WA. Jim served in the U.S. Air Force from June 22, 1956 – July 21, 1960 as a Radio Repairman an Airman First Class at Keelser AFB, Mississippi.
Following his time in the service, Jim worked for Pac NW Bell (currently known as Lumen) in Seattle, WA from 1960-1990. He climbed poles in the beginning and worked the test desk where he met the love of his life Sandra in 1970. He became an outside manager with a great crew. Sandra and Jim married on September 4, 1971, in Bothell, WA. Jim was later hired on at Group 4-Engineering and ended up at a nursery in Snohomish, WA.
Jim and Sandra took a memorable 6-week road trip driving all of the way to Maine to visit his parents stopping in South Dakota to visit other relatives. In 1999, Jim told Sandra to put in for early retirement. The couple sold their home and moved to St. Maries, ID where Sandra was born and had family.
An avid fisherman, Jim loved Salmon fishing, specifically along the Washington Coast. He and Sandra owned a big fishing boat, and thoroughly enjoyed taking friends out on it. He also loved St. Maries, ID and spending time in the outdoors, hiking, gardening, mowing, and tinkering in his shop creating and fixing things.
Jim is survived by his loving wife Sandra at their home in St. Maries; children Russell, Lisa, Jeffrey, and Rob; adopted children Jeremy and Marygene Sotin and their children; 9 grandchildren; numerous nieces and nephews. He is preceded in death by his parents, son Joel Nilson, and siblings Donald Nilson and Judith Loveless.
There will be a service for Jim scheduled at a later date to be announced.