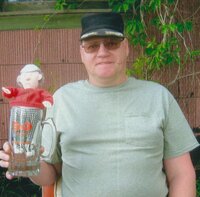 Robert Wayne Sheppard
Robert Wayne Sheppard (58) resident of Plummer, ID passed away at his family home on March 1 ,2023 with his sister Judy at his bedside. Robert enjoyed fishing, hiking, and camping. He loved the fresh mountain air. Robert was employed with several different farmers in the community through the years. He also worked at Rockford Grain Growers and Cenex where he was one of the top spray applicators winning several safety awards.
Robert was a good provider and was always willing to help his siblings if they needed something repaired or tuned up. He was a talented mechanic. Robert loved his dogs and called them "his kids".
Robert is survived by sisters Donna Sheppard of Sedona, AZ, Joyce Sheppard of Plummer, ID, Judy Sheppard of Plummer, ID, and brother Mark Sheppard of Spokane, WA. He was preceded in death by his parents Carl and Virginia Sheppard and sister June Sheppard.
A gentle man with a good sense of humor and a kind heart, he will be sorely missed. At Robert's request there will be no services.