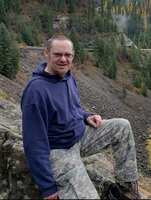 Brian Jay Hanni
Brian Jay Hanni (49) resident of St. Maries, Id passed away at his home on March 1, 2023. He was born to Donald and Lois (Connyers) Hanni on July 7, 1973. Brian grew up in the Coeur d' Alene, Hayden, and Rathdrum areas.
After obtaining a GED, Brian went to work in construction, a career her held for 20 years. In 1998 he married Angela Castaldo (aka Hanni) and they had their daughter Kayl. The marriage later ended in divorce, but the couple remained good friends and were very successful co-parents. In 2014 due to health issues, Brian was forced to quit construction as his body started giving out on him. He moved to St. Maries in July 2022 and took a part time job working for Valley Vista.
Brian was and avid outdoorsman who enjoyed riding motorcycles and snowmobiles until his physical condition changed, at which time his love for camping, hunting, mushrooming, gardening and raising chickens became his pass time.
Brian is survived by his daughter Kayl Hanni of Kennewick, Wa., his sister Kim (Ken) Sharp of Calder, Ida. niece Gretchen Sharp of Missoula, Mt. and his parents Don and Lois Hanni of Calder, Id.
Brian will be remembered as a loving, caring, and funny father, son, brother, friend and uncle. Brian will be loved and missed every day. He is forever in our hearts and souls and we will carry his memory with us wherever we go.
At his request there will be no services.