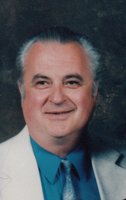 Murvin D. Williams
Murvin D. Williams (79) resident of St. Maries, ID passed away on December 6, 2017. He was born on October 21, 1938 in Pomeroy, WA to Murel and Eileen Williams. Murvin's family moved around residing in Pomeroy, WA, Lewiston, ID, Chewelah, WA, Genesee, ID, Tensed, ID, Afton, WY, Deary, ID, and St. Maries, ID. He graduated high school with the class of 1957 from Tekoa, WA.
Following high school Murvin farmed with his father for 20 years. He enlisted with the National Guard serving several years. He then went to work driving logging truck for Potlatch Corp and Lowry and Sons. Murvin met Beverly Copeland in 1978 thru her sister when he was on a trip to Los Angeles, CA. After a brief courtship, the couple married. In 2003 Murvin retired from driving log truck, and he and Beverly enjoyed traveling. They had always enjoyed taking their grandchildren on trips with them.
Murvin was a member of the St. Maries Assembly of God Church where he was Missions Director. He enjoyed reading and watching westerns, particularly Louis L'Amour. He was a fabulous gardener working with plants, flowers, and trees.
Murvin is survived by his stepchildren whom he thought of as his own Ken (Jackie) Copeland of Post Falls, ID, Connie Copeland of Whidbey Island, WA; 3 grandchildren, 3 great-grandchildren, 4 nieces and 4 nephews. He is preceded in death by his parents, his wife Beverly, and his brothers and sisters in-law James (Charlotte) Williams and Burton (Laota) Williams.
A memorial service will be December 15, 2017 at 2:00 pm at the St. Maries Assembly of God Church. Interment will follow at Woodlawn Cemetery. A gathering of family and friends to share a meal will follow at the church. Memorial contributions may be made to St. Maries Assembly of God Church earmarked Fire Bibles.