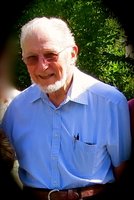 Ottis William Rechard
Ottis William Rechard died on August 2, 2018 in St. Maries, Idaho, at the age of ninety-three.

Ottis was born in Laramie Wyoming on November 13, 1924 to Ottis H. and Mary Bird Rechard. He graduated from the University of Wyoming in Laramie at the age of 18.

Later that year, just after his 19th birthday, when he was on leave from the army, he married Dorothy Duble Rechard, whom he had met at a summer camp when she accompanied him as the pianist to his violin solo. Music continued to be a very big part of both of their lives until Dorothy died in 1999. Ottis continued to play the violin in various community symphony orchestras, chamber groups and church services until the age of 90.

Ottis was a Lt. in the Army Air Corps and through his math skills related to weather and tides, was instrumental in planning the timing for, and being present at, the Normandy Invasion.

After World War II, he earned his PH.D in Mathematics on a Fellowship with the University of Wisconsin in Madison. He went on to be a significant mathematical researcher and developer of ideas that laid the groundwork for the study, usage and importance of computers in the life of the world. He worked for the Atomic Energy Commission, the National Science Foundation, Washington State University and University of Denver, and developed the Computer Center and one of the first degree programs in Computer Science in his work at WSU.

Ottis and Dorothy lived in Madison,Wisconsin; Columbus, Ohio; Los Alamos, New Mexico; Pullman, Washington; Washington,D.C. ; Denver, Colorado; and Saint Maries Idaho. Ottis also resided in Beaverton, Oregon after Dorothy's death.

He served on the Pullman Washington Public Schools School Board for many years, and all four of his daughters, Kathy, Carol, Nancy and Elizabeth graduated from Pullman High School.

Throughout his life he was a very active member of Presbyterian churches in each of his resident communities, serving as both an Elder and a Deacon for many decades.

Ottis was also an avid and lifelong fly fisherman and lover of the outdoors, and was living at his cabin on the St. Joe River in Idaho at the time of his death.

Ottis is survived by four daughters: Katherine Baxter, Carol Sinnemann, Nancy Moore and Elizabeth Bird, their families including 3 sons-in-law, 8 grandchildren and 12 great grandchildren, and a younger brother, Paul Rechard and his family.

He continued to take a central role in the lives of his family, and was scheduled to host yet another extended family get-together at his cabin at the time of his death.His presence will be deeply missed. His remains will be placed beside Dorothy's at a special spot on their beloved Black Prince Creek property.