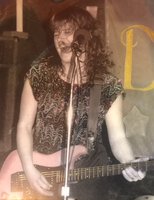 April D. Whitaker
Singer and songwriter April D. Whitaker (58) resident of St. Maries, ID passed away on September 5, 2018. She was born to Nolan and Madeline (Magers) Whitaker on May 14, 1960 in Moscow, ID. As a young child, April lived in Lewiston, ID before her family relocated to St. Maries, ID. She attended schools at Plummer, Kootenai, and St. Maries before graduating from St. Maries High School with the class of 1978. While attending high school in St. Maries, she met PJ Loucks. The couple dated for a couple of years before marrying on January 7, 1978.
April and PJ played music together for many years. She was exceptionally talented and was a cut-above the rest. April was not only an amazing singer, she also played guitar, played tambourine, and wrote many songs over the years. Some of her songs were inappropriate and humorous, but well loved by her fans. Some artists practice a few times a week, but April's passion for her music had her practicing for hours a day. She choreographed her own moves for her upcoming performances. Her voice was unique and versatile singing anything from Tina Turner to Patsy Cline to Janis Joplin. She worked hard and was very successful. April was also a mother having 2 boys with PJ. Aside from her music, April helped support the family with her position as a CNA. She worked for Lacrosse Care Center in Coeur d' Alene as well as Valley Vista Care Center in St. Maries. PJ and April divorced in 1992; however remained friends.
Traveling to Deadwood, SD with her friend Kim, was something April always looked forward to. The friends have visited the old Western town at least a dozen times. She also loved nature and enjoyed fishing and hiking. Most hikes started off trailblazing through the forest not worrying about being on trails. This is a great explanation on how April approached life. She was definitely one of a kind and her family and friends will miss her so much.
April is survived by her sons and daughter's in-law Jimmy and Anne Loucks of St. Maries, ID and Frederick and Amanda Loucks of Boise, ID; sister Angela Fowler of Harrison, ID; brother John Whitaker of Hutter, ID; and 4 grandchildren. She is preceded in death by her parents, her brother Terry Whitaker, and her sister Bona Whitaker.
A celebration of April's life will be Sunday, September 30, 2018 at 3:00 pm at the Eagles Lodge. Please share a spaghetti dinner with the family and enjoy the music that will be played.