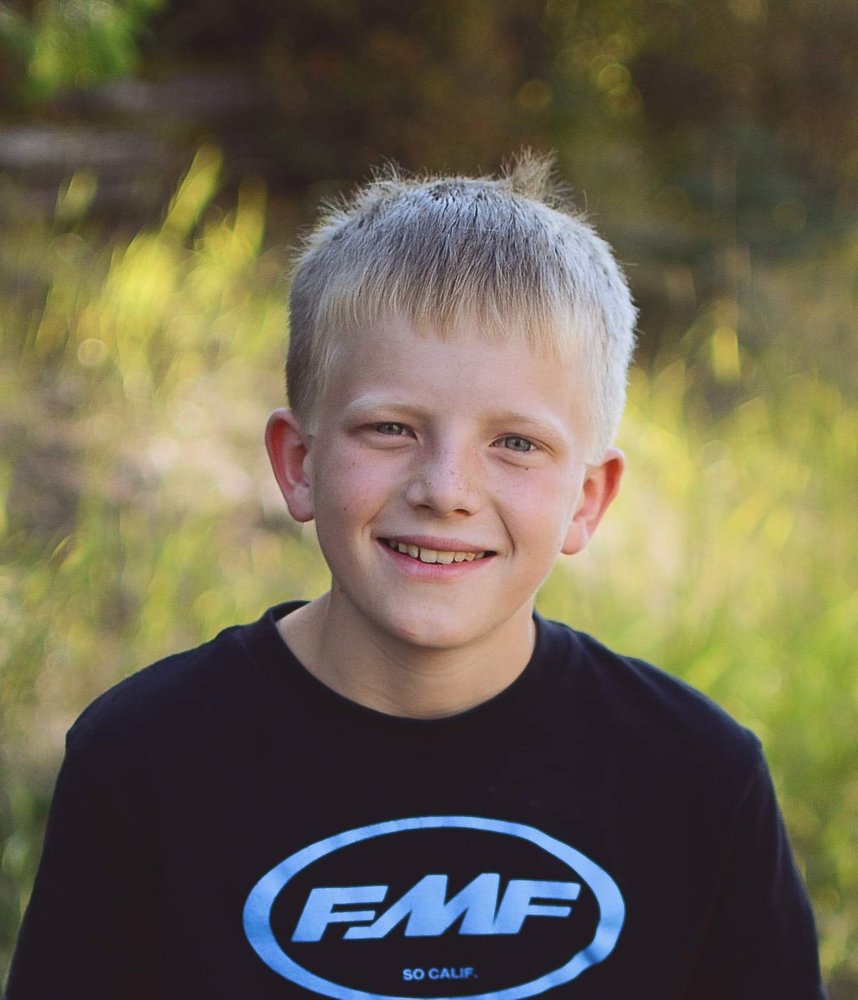 Obituary of Gabriel Scott Suchoski
Gabriel Scott Suchoski was born on January 6, 2006, at his home near St. Maries, ID. He went home to heaven on December 7, 2018, after a valiant 16 month battle with Non-Hodgkin Lymphoma.
Gabe was a gentle soul, quiet, and always thinking of others first. He enjoyed all things outdoors such as hunting, fishing, camping, boating, building forts, playing soccer, playing baseball, riding his motorbike, and 4-wheeling. He loved spending time with his siblings and cousins. After being diagnosed with cancer on August 7, 2017, he spent much of his time at Sacred Heart Children's Hospital and Seattle Children's. When hospitalized, he kept busy by watching outdoor shows and playing Minecraft.
Gabe endured much due to his disease and treatment, but he never complained. He never once asked, "Why me?" He accepted his illness and made the best of it. He kept smiling and joking for as long as he could. Cancer may have taken his life, but it could never take away the lessons he taught his family, friends, and even people he never met about strength, courage, faith, hope, and love.
Gabriel is survived by his parents Patrick and Shawnna Suchoski; his brothers Jesse, Kade, Nicholas, Danek, and Brennen; and sisters Morgan, Bethan, Cassidy, Mari, Briallen, and Chiara. He is also survived by his grandparents Scott and Jean Dittman of Big Creek and Donald Suchoski of St. Maries, ID; great-grandmother Mary Dittman of St. Maries, ID; and numerous aunts, uncles, and cousins. He is preceded in death by his baby sister Magdalen (2009), and his grandmother Sheryl Suchoski (2017).
A Visitation will be held at Hodge Funeral Home on Thursday December 13, 2018 at 3:00 pm until Rosary. Rosary will follow and be recited at 7:00 pm. A Sung Requiem Mass will be offered at Immaculate Conception Church in Post Falls, ID, on Friday December 14, 2018, at 9:30 am. Interment will follow at Woodlawn Cemetery in St. Maries, ID. A gathering of family and friends will be at 1:00 pm, following interment, at the Eagles Lodge in St. Maries, ID.
Share Your Memory of
Gabriel