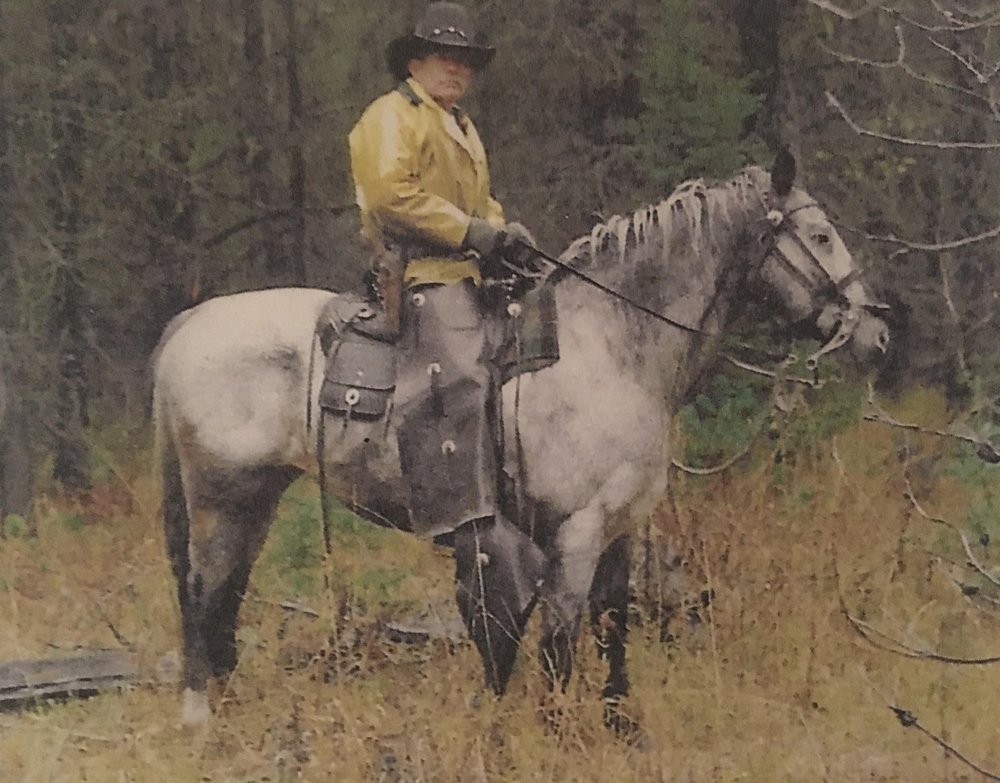 Obituary of Joe Blackburn
Joe was born July 15th, 1931 to Charles and Laura Blackburn in Kansas City, Missouri. They moved to the sandhills of western Nebraska when he was 6 weeks old; he said in retrospect, it was surprising that they brought him too. Growing up in Nebraska, Joe developed a love for the outdoors. He often told stories of growing up; playing hooky to fish, running a trapline on his bike, and hunting made up the content of many of those stories. The other trait that developed early in Joe was his commitment to service. He and a buddy "fudged" their ages and joined the Nebraska National Guard at age 15. Those two commitments came together in 1949, when Joe entered the University of Montana at Missoula and there participated in the ROTC program. He said he wanted a school with a good fish and wildlife curriculum-and good elk hunting. He joined the rodeo team, but after his first rodeo woke up in the hospital. That convinced him rodeo was too dangerous, so he went down to the USFS office and applied to be a smokejumper. He put himself through college by smoke jumping during the summers, and graduated in 1953 with a degree in Wildlife Technology and a commission as a 2nd Lieutenant, Infantry. He reported to Fort Benning, GA for active duty and there attended jump school and jumpmaster school. He was assigned to the 82nd Airborne at Fort Bragg, NC. He was sent on a recruiting assignment to Florida. While there met his wife to be- Sharon Dunn. Later in life, Joe went back into the active Army Reserve. He also went back through special forces school and earned his Green Beret. He eventually became commanding officer of detachment 324, 12th special forces (airborne). He retired at the rank of Major. Joe and Sharon were married in Clearwater in 1954. Upon his (first) discharge from active duty, Joe and Sharon moved to Montana and bought a ranch on the Blackfoot River. The following spring, Joe was offered a position as Conservation Officer with Idaho Department of Fish and Game, so they sold the ranch and moved to Shoshone, ID. While there they had their first daughter, Rebecca. After transferring to Challis, ID the couple had two more daughters: Ramona and Roxanne. Roxanne died at 18 months old, a grief Joe carried with him the rest of his life. Joe eventually resigned as the CO at Challis, and bought an outfitting and guide business. After three years of saddle sores and cold feet, he sold the business and went back to work with Fish and Game. He took the position in Calder, ID. They lived there until he was promoted to regional supervisor in Boise. After a few months in Boise, Joe said real game wardens don't sit at a desk all day. He asked for a demotion back to the field, and received a transfer from Boise to St. Maries. In 1975, Joe married Peggy Scott of Plummer. They made their home at Plummer. In 1986, Joe retired from Fish and Game, though he never actually entered retirement. He served as marine deputy for Benewah County, enforcement agent for Idaho Outfitter and Guides Licensing Board, timber security for Quality Services, co-founder of the St. Joe Bait Company, and in 1996 he ran for the office of Benewah County Sheriff. He won that election and served one four year term. Joe's lifelong passions of hunting and fishing stayed with him, and semi-retirement gave him more time to enjoy those pursuits. He loved fishing Lake Roosevelt for kokanee and rainbows, and the turning of Summer to Fall meant weeks spent in "the Bull Pasture", where he and Peggy had elk camp for 30 plus years. The highlight of his Winter was spending a couple months in Mazatlan each year, soaking up the sun and fishing. Joe was a certified scuba diver, certified parachute rigger, a hunter education instructor, and boat safety instructor. He also was an avid reader, and an accomplished runner, completing 13 marathons and 12 triathlons. Joe will be remembered for his feet propped up on the table, many pieces of good advice, a sense of humor, a multitude of funny and fascinating stories, a commitment to treating people fairly, and for never getting into trouble, because he didn't have a middle name. Joe Blackburn of Plummer, Idaho died at home on December 17th, 2019. He was 88 years old. Joe was preceded in death by his parents; his daughter Roxanne; and his grandson Tucker. Surviving him are his wife Peggy; sisters Sue (Scott) Hartman, and Sandi Blackburn; daughters Becky (Tom) Rice, and Mona Moore; step-children Randy Scott, Pat (Josie) Scott, Clint (Penny) Scott, and Tracy (Mike) Dole. Also surviving him are 29 grandchildren and 22 great-grandchildren. A memorial will be held at a later date.
Services for Joe Blackburn
There are no events scheduled. You can still show your support by planting a tree in memory of Joe Blackburn.
Visit the Tribute Store