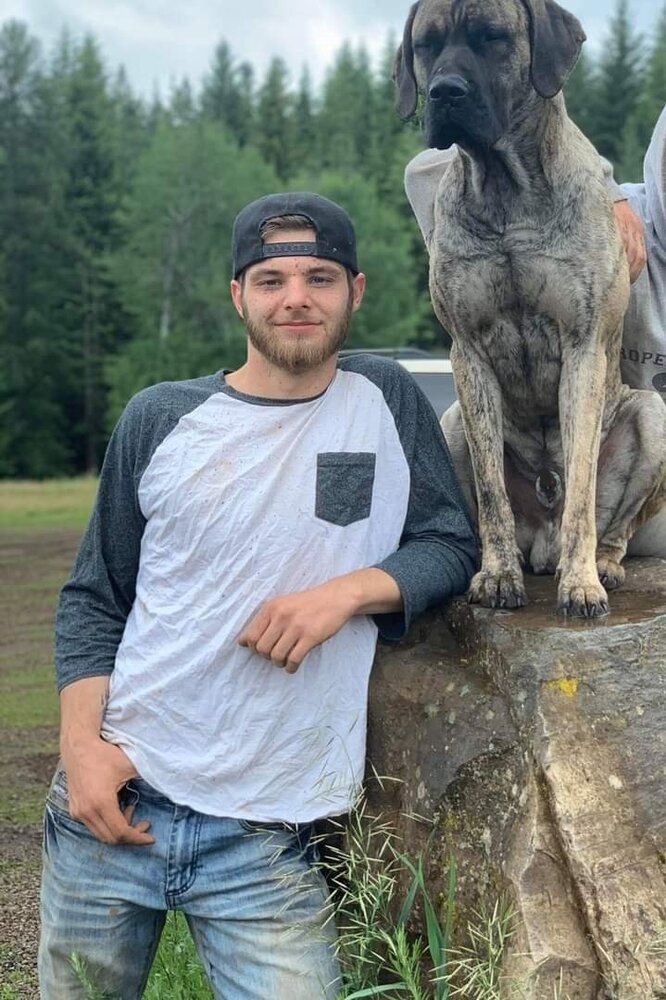 Obituary of Moses Zachariah Shearer
Moses Zachariah Shearer (23) resident of St. Maries, ID passed away on June 29, 2022, at Benewah Community Hospital. He was born to Timothy Shearer and Crystal Baker on August 19, 1998, in Tualatin, OR. In 2003 the family moved to St. Maries, ID where Moses attended school. With Moses' charismatic personality, it did not take long for him to meet many friends. He was very outgoing, charming, and funny.
Following his schooling, Moses moved to the Spokane/Post Falls areas to build homes. He loved this career path, specifically framing. Moses was in the process of starting his own business Shearer Structures LLC just recently and was close to obtaining all of his licensing requirements. He always said he wanted to be his own boss and was taking the steps in making his dreams come true. In his spare time, Moses enjoyed the outdoors, shooting guns, horn hunting, fishing, camping, hiking, and riding dirt bikes. Family and his dog Kaizer were everything to him. They all share many memories of family gatherings, holidays, camping trips, and time in the great outdoors. They always had family game nights of softball, football, volleyball, or board games. The whole family is all very competitive, and Moses always tried to win at everything. If he lost, he would pick a different game after that he knew he would win. Usually Wrestling in the front yard, or arm wrestling. Strength was always his go to when competing with his sisters.
Moses said "The thing about family is that at some point you lose your old friends and the past fades and life changes. However, Blood is Forever, you can even hate your family members if you want, but guess what yall still related and still share the same blood, and as far as this family goes, we look nice, like a bunch of puppies right? Nah this is a fucking pack of savage ass wolves right here! Except Marlane you will always be a puppy!"
Moses enjoyed having nice things and took a lot of pride in his jewelry and colognes. He always liked to look and smell nice. He was a handsome man with a contagious smile and laugh and an enormous personality. Moses found joy in making people happy; always joking trying to have fun in this thing we call life. Being raised with 8 sisters, and a little brother he was very protective of his family and friends and loved them fiercely. His motto was 24-7 ride or die for any of his family and friends and he would drop anything if anyone needed him. He was very proud of the fact he was a Leo and liked to make sure everyone knew he had the soul of a lion. You won't find another person with a heart as big as his; he had a lot of love to give, especially to all of his nieces and nephews. It is a joke among his family that he could make instant friends with strangers, they couldn't go anywhere without him meeting and making friends. He was one of a kind and will be deeply missed by everyone who knew him. Moses always brought a light so great to everyone he met that even now the light remains.
Moses is survived by his mother Crystal Baker (Reese Adams) of St. Maries; Bonus Father Arlan Ravey of St. Maries; siblings Shantell (Josh) Trull of St. Maries, Raelene Ravey (Darrick Short) of St. Maries, Marlane (Timothy) Dishman of St. Maries, Sofia Boru of Keizer, OR, Selena (Mitchell) Lawrence of Salem, OR, Julianne (Damian) Dittman of St. Maries, Danielle Mitoma of New York, Tressie Ravey of St. Maries, and Demetri Ravey of St. Maries; great grandmother Lois Brian of Zillah, WA; Aunt Vicki (Dale) Wise and family of St. Maries, Aunt Tammie Smith and family of Coeur d' Alene, ID; His beloved fur baby Kaizer; numerous nieces and nephews, and cousins. He is preceded in death by both maternal and paternal grandparents.
A memorial service will be on Friday, July 15, 2022, at 2:00 pm at the Nazarene Church Gymnasium. A potluck gathering for family and friends will follow at Cherry Bend Boat Park; please bring a dish and your favorite memories of Moses.
Memorial Service
2:00 pm
Friday, July 15, 2022
St. Maries Church Of The Nazarene Gymnasium
175 Grandview Drive
St. Maries, Idaho, United States
Gathering of Family & Friends
3:00 pm
Friday, July 15, 2022
Cherry Bend Boat Park
Cottonwood Drive
St. Maries, Idaho, United States
Share Your Memory of
Moses