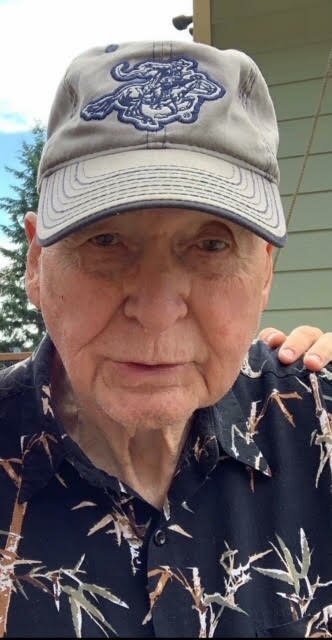 Obituary of Rudolph P. Crane
Rudolph "Rudy" Phillip Crane (87), resident of St. Maries, passed away on July 10, 2022 at Valley Vista Care Center. He was born to Walter Crane and Mary Fairchild in Boone, Iowa on October 2, 1934. He loved his children and grandchildren and would do anything for them. Rudy also enjoyed dancing and socializing in his younger days. Rudy was big on wine, women, and song in those days.
Rudy joined the Navy in 1954 and fought in the Korean war. When he was honorably discharged from the Navy he settled in Rochester, MN for a few years. Then he left MN for Dallas, TX in 1964. Rudy loved TX and lived there for over 40 years where he worked most of the time at Methodist Hospital in Dallas, TX as a radiology technician. When his daughter moved to Florida in 2005, she asked him if he wanted to live in an apartment over the garage. Rudy immediately loaded up the car, headed to Florida and moved in. Rudy enjoyed the tiki bars and beaches in Florida and made a lot of friends. In 2010 his daughter moved to St. Maries and Rudy followed along. Rudy was "old-school" with an incredible work ethic. He loved to work, even after he retired. Mowing, cleaning the workshop, helping out at the St. Maries Elks Lodge washing dishes in the kitchen, sweeping and whatever else he could find to do. Snow was his biggest nemesis, Rudy refused to let the snow sit on the deck around the house. Regardless of how deep it was, the snow had to go. Rudy was an unstoppable force of nature.
Rudy is preceded in death by his parents, brother Gerald, and twin nephews Kris and Kirk.
Rudy is survived by children Cynthia Draper (Lee) of St. Maries, ID and Steve Crane (Patti) of The Colony, TX; grandchildren Amy Daugherty, Montgomery, AL, Annette Crane (William Loy) Melbourne, FL. Vincent Crane Denison, TX; bonus grandchildren: Erin Kilday, Scott Draper, and Jon Draper (Rose) all in northern VA; and Kaitlin Draper McCormick (John) Liberty Lake, WA and two great grandchildren Isabelle Castillo and Dillon Daugherty.
A Celebration of Life will be held September 17, 2022 at 1:00 pm at the Elks Lodge in St. Maries, ID. Military honors will be presented before the service at the Elks at noon at the Veteran's Memorial at Woodlawn Cemetery.
Military Honors Presented
12:00 pm
Saturday, September 17, 2022
Woodlawn Cemetery, Veterans Memorial
23rd St. and State Hwy 5
St. Maries, Idaho, United States
Celebration of Life
1:00 pm
Saturday, September 17, 2022
Elks Lodge
628 Main Street
St. Maries, Idaho, United States
Share Your Memory of
Rudolph