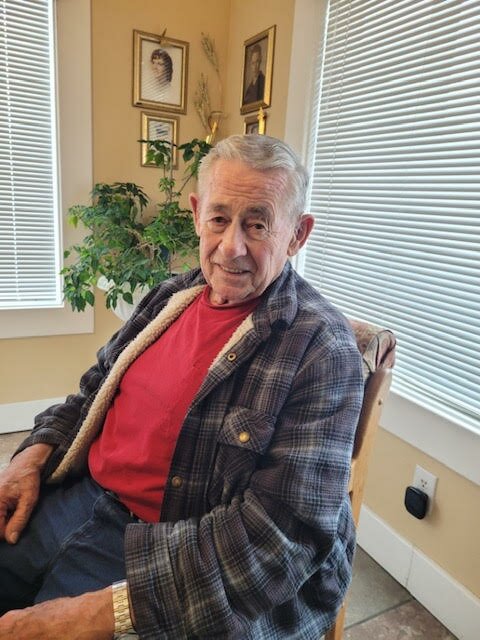 Obituary of Rodney Oliver Dickenson
Rodney Oliver Dickenson (85), resident of Santa, Idaho, passed away at Benewah Community Hospital on November 6, 2022. Rodney was born (1937) in Portland, Oregon to Robert Royce and Daisy Fern (Warner) Dickenson, and grew up in Pine Grove and Pendleton, Oregon. He graduated from Pendleton High School with the class of 1955.
Following high school, Rodney enlisted and served 4 years in the US Navy, spending much of his time at sea with frequent stops in Japan. While attending church on one of his weekend liberties, he met and fell in love with Sherryll Dawn Adney of San Diego, California. Following several months of courtship between his deployments, they were married in the summer of 1957 and started a family. When he was honorably discharged from the Navy, Rodney returned to San Diego, working with his skilled hands in carpentry wherever work could be found. Over the next few years, he relocated his growing family several times, moving to Ogden, Utah; San Pablo, Calif.; and Pasco, Wash.; before finally settling just outside of Hermiston, Oregon in 1966. There Rodney built a house on a hill, rising above the Umatilla River and overlooking the countryside that spread out to the town nearby. He always preferred to have a view. Here the couple raised their 8 children and cultivated a small farm, while he continued to work as a carpenter.
Rodney and his 2 older brothers, Robert (Bobby) and Leroy, learned the carpentry trade from their father, who was a contractor in eastern Oregon. After their father's untimely death in 1961, he and his brothers formed BL&R (Bobby, Leroy & Rodney) Construction and worked as a team to build houses in the surrounding area and adjacent states. When BL&R Construction dissolved, Rodney and Leroy then established River Road Construction, which they ran together for years. In the late 1970's, Rodney and his brothers filed paperwork to rezone 30+ acres of family-owned farmland to allow 1-acre lots for new homes to be built. The Dickenson Addition, a family's legacy to their community, soon became a reality, the streets of the new subdivision named in honor of their parents: Royce Lane and Daisy Lane, joined together by Dickenson Drive. The brothers' very first groundbreaking was a new home on the corner of Daisy Lane, presented as a gift to their aged mother.
In 1984, Rodney obtained a job with Golden Corral Corporation based out of North Carolina. He was instrumental in building the famous chain's restaurants. In the early 1990's, he and Sherryll bought property on Pokey Creek Road, overlooking the valley surrounding Santa, Idaho. He always did prefer a view. For the next few years, they spent their off time there in a 5th wheel. They officially relocated to the property and built their home when Rodney retired in 1997. Sadly, Sherryll unexpectedly died in the late summer of 1998, and Rodney was left brokenhearted with no one to share his mountain top.
A year later Rodney found love again when he was introduced to Violet Nelson while visiting the church she attended. He knew immediately that she would become his "the-rest-of-my-life" companion. They were married in St. Maries, Idaho, in the summer of 2000. Soon after, Rodney came out of retirement and served as a Building Superintendent for Golden Corral with Violet by his side. They traveled around the United States, overseeing the construction of 6 new restaurants, from groundbreaking to opening day. He finally officially retired in 2006.
Rodney adored Violet and always made sure she knew it. The couple thoroughly enjoyed each other's company and traveled and played whenever they could. In retirement, he "wintered" in Arizona with Violet until travel was no longer possible. Spring would bring them back to the blessing of his mountain top, which he loved sharing with cousins and other family members when they would visit. According to him it was as close to Heaven as a person could get on Earth.
Rodney was an avid elk and deer hunter and loved to take his 4-wheeler into the hills just to enjoy the outdoors. Whether a hunt was productive or not, he was always "at home" in the surrounding forests. He also found pleasure in creating things with his hands and landscaping his property for scenic wildlife enjoyment. If he had to be indoors, he could always be found either near a window observing wildlife outside or in his favorite chair watching an old-time classic western like Gunsmoke or Rifleman, reading his Bible, or playing his guitar and harmonica – or maybe a frisky ragtime on the piano – all of which he had played from his youth.
Music was always a part of Rodney's life. Each of his children was gifted with the same love for music that he and their mother had shared and an inherent ability for musical instruments and song. Each one learned to play at least one of a variety of instruments. Singing and playing was just a natural way of life for Rodney and his family. Alone or as a group, it brought encouragement and comfort through tough times. Raised in a family of 8 children, himself, large family gatherings were the custom through his adult life. The best part was always when the instruments would come out and everyone poured into the room and the house would ring with harmonized voices in praise and worship before each family began to trickle away to their own homes. After Rodney's children grew up, gatherings grew smaller and farther apart. The highlight of each year for him became Independence Day when his children and grandchildren could come from various states to gather at his home. At the end of the day, the guitars and keyboards or a piano would begin to ring out, drawing harmonized voices together in praise and worship until each local family trickled away to their own homes or off to see fireworks displays. Music time was always a time of celebration for him.
Rodney is survived by his wife Violet at their home in Santa, Idaho; his children, Kerri Sherman of Coeur d'Alene, Idaho; April (Greg) Partney of Elgin, Oregon; Laurinda (Roger) O'Dell of Coeur d'Alene, Idaho; Marla (Tim) Behr of Blaine, Minn., Rodney "Bryan" (Brenda) Dickenson of St. Maries, Idaho, Brenda (Donald) Johnson of Lino Lakes, Minn.; Shawna (Stephen) Morris of Stanwood, Wash.; and Jeremy Dickenson of Richland, Wash.; his stepchildren Robin Nelson Blood of St. Maries, Idaho; Ron (Mary) Nelson of Medimont, Idaho; Roger (Beth) Nelson of Harrison Flats, Idaho; and Randi (Donna) Nelson of Ephrata, Wash.; siblings Leroy (Dotsie) Dickenson of Burbank, Wash.; Merilyn (Bob) Pullen of Pendleton, Oregon; Patricia (David) Ralston of Milton-Freewater, Oregon; and Colleen (Dave) Lee of Portland, Oregon; 23 grandchildren, 14 step grandchildren, 57 great-grandchildren, and numerous nieces and nephews. He is predeceased in death by his parents; first wife Sherryll Dickenson; siblings Lavonne Pettey, Robert (Bobby) Dickenson, and Rosalie Kornoley; and grandsons Ryan Sherman and Jerrod Sherman.
Interment services with military honors presented will be held Friday, November 18, 2022, at 10:00 a.m., at Woodlawn Cemetery in St. Maries, Idaho. A memorial service will follow at 11:00 a.m. at the St. Maries Assembly of God Church, with a gathering of family and friends to share a meal afterwards in the fellowship hall of the church.
Interment Services with Military Honors Presented
10:00 am
Friday, November 18, 2022
Woodlawn Cemetery
23rd Street and hwy 5
St. Maries, Idaho, United States
208-245-2577
Memorial Service
11:00 am
Friday, November 18, 2022
St. Maries Assembly Of God Church
405 23rd Street
St. Maries, Idaho, United States
Share Your Memory of
Rodney