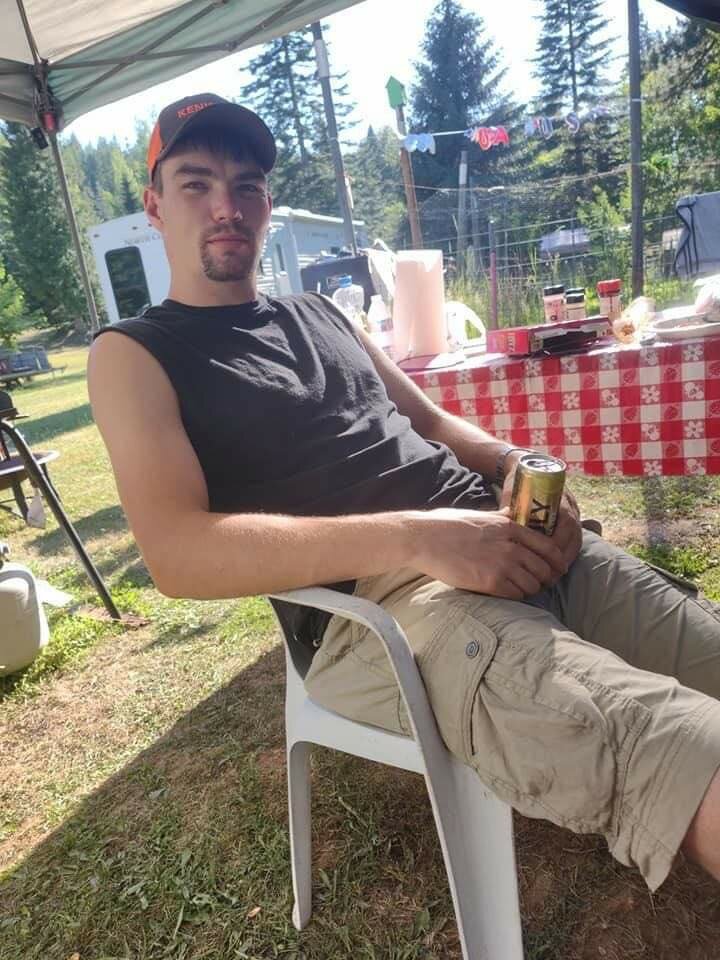 Obituary of Brett Anthony Sexton
Brett Anthony Sexton (26) resident of St. Maries, ID passed away near Lewiston, ID on November 21, 2022. He was born to Bobbi Sexton and stepdad Bob Hereford on April 9, 1996, in Missoula, MT. Brett grew up in Missoula, and when he was in high school, he excelled in football. However, Brett's true passion was working, and at the age of 15 he started working for Bid Lake Ranch and also worked for Far West Gravel. He was independent from the day he was born. Pair that with a stubborn streak and giving 100% at anything he tried; his family knew the sky was the limit and he could do anything. Brett graduated from Frenchtown High School with the class of 2015.
Following graduation, Brett immediately went to work hauling logs for his parents. As long as his family could remember he wanted to drive a logging truck, and he did it well. In 2016 Brett started dating Ariana Deniger and it was love at first sight. Brett found himself traveling all over Montana, Idaho, Washington, and Oregon living out of a camper for work with Ariana by his side. Brett and Ariana had daughter Cealie and moved to St. Maries when she was 1 year old. St. Maries gave Brett the opportunity to be at home more and spend time with his family. He loved the area and all the outdoors had to offer around St. Maries, so the couple purchased a home and some property in 2018. He continued to drive log truck for his parents and also spent some time driving log truck for Shane Goicoechea. Life as a truck driver was hard for a young family and Brett wanted to explore the other avenues of logging. He bought a Processor and worked for Jay Matz out of Priest River. When the wildfire down in Salmon, ID was out of control, and help was needed to fight it, Brett took his Processor down and helped battle the blaze. In November 2021, his dream became a reality when he bought his own logging truck "Decked out Logging", and in June of 2022 the family welcomed son Waylon into the world. Brett was proud of what he had accomplished and so was his family.
As a child, Brett raced sprint cars and loved attending boat races. He enjoyed anything that was motorized and had wheels. An adrenaline junkie and avid outdoorsman, he loved snowmobiling and 4 wheeling. One of the last times fishing, he caught a bass and decided he wanted to spend more time at the sport. He also was one of the hardest working men you had ever seen and never left work unfinished. Most importantly, he loved his family and his children.
Brett is survived by his wife Ariana at their home in St. Maries; children Cealie "Joey" and Waylon both of St. Maries; his grandmother Vyonne Mosher of Drummond, MT; his parents Bob and Bobbi Hereford of Missoula, MT; sister Heidi Sexton of Missoula, MT; parents in-law Cameron Deniger and Aimee and Jim Trickey of Missoula, MT; sisters in-law Brynna Deniger and Keeli Deniger both of Missoula, MT; Aunt Anita Anderson of Kila, MT, Aunt Terry Paske of Missoula, MT, Uncle and Aunt Bill and DeeDee Hereford of Missoula, MT; nephews Benjamin, Carter, and Douglas Martin all of Missoula, MT; and cousins Autumn Wolf of Williston, ND, Tommy Golden of Oregon, Kimmy Swearingen of Astoria, OR, Jenna Corrigan and Lindsay Miller of Missoula, MT. He is preceded in death by his grandparents.
A memorial service to honor Brett's life will be on Saturday December 10, 2022, at 2:00 pm at the Cormana Building in St. Maries. A truck procession will be prior to services at 12:00 pm on Main Avenue- trucks will be lining up at 11:15 am at Harvest Foods. A spaghetti feed and auction will follow all services at the Cormana Building at 3:00 pm. Services in Missoula, MT will be December 17, 2022 at 11:00 am at Garden City Funeral Home.
Memorial Service
2:00 pm
Saturday, December 10, 2022
Cormana Building
1006 W. Idaho Ave.
St. Maries, Idaho, United States
Montana Memorial Service
11:00 am
Saturday, December 17, 2022
Garden City Funeral Home
1705 W Broadway St
Missoula, Montana, United States
Share Your Memory of
Brett