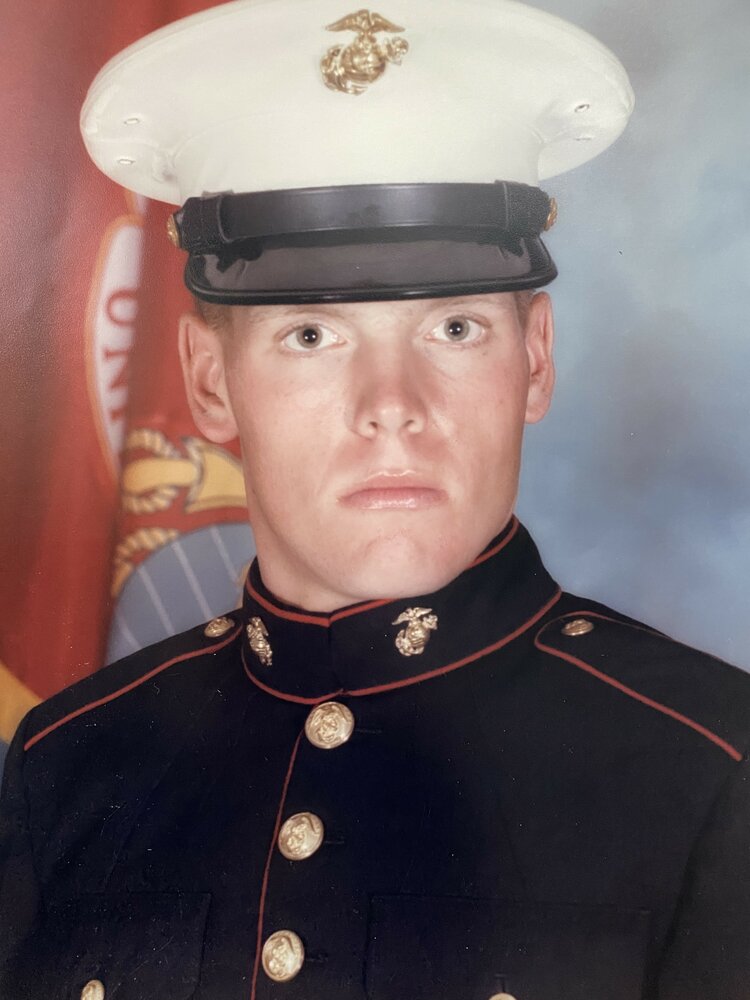 Obituary of Brenton P. Sloper
Brenton P. Sloper (52) resident of St. Maries, ID passed away at Benewah Community Hospital on November 23, 2022. He was born on December 10, 1969, in Spokane, WA. At the age of 6 months, Brent's mother Margie loaded him up in her Dodge Dart snuggly in a laundry basket and headed to San Diego. They lived there until 1974 when they returned to Ritzville and then on to Spokane. Margie reconnected with Hugh Gannon, and in 1979, Brent and Margie moved to St. Maries to be with Hugh as a family.
Brent loved growing up in St. Maries. In school he excelled at baseball, football, and his most favorite basketball. He graduated from St. Maries High School with the class of 1988. Following high school, Brent enlisted in the U.S. Marine Corps and started boot camp at Camp Pendleton. He served during Desert Storm and spent time in Korea, Kuwait and Iraq. He was honorably discharged after 4 years of active duty and 3 years of Reserves. He returned to St. Maries and went to work for Potlatch Corp. In 1997 Brent moved to Columbus, OH where he went to work as a valet at RJ Snappers, an upscale seafood restaurant. He quickly found a love for cooking and moved into the kitchen, becoming a sous chef. Brent gained an extraordinary amount of knowledge working at Snappers along with many lifelong friends.
In 2004, Brent moved back to St. Maries. His original plan was to move to Portland to live with his sister Annie, but his car conveniently broke down in St. Maries. He reconnected with family friend Jamie Hammes and her young son Glover Buell. He quickly decided to stay. Brent and Jamie married on July 30, 2005, at the Community Presbyterian Church. In September of 2006 they had their first child, daughter Danika, and in May 2008 they welcomed son Xavier. The marriage later ended in divorce.
Brent was a wild child that loved to experience different things. He obtained his CDL and drove a long-haul truck, owned and operated S&S Distributing, served as a laborer at Stimson Lumber, a chef at the Coeur d' Alene Casino, equipment operator for the City of St. Maries, and lastly, he fulfilled his dream when he opened Lumpy's. Food was his love language, and he looked forward serving and cooking for the community of St. Maries. On Veteran's Day, he wanted to serve free meals to the veterans of St. Maries. However, the community stepped in financially and backed his efforts. He was completely humbled by the love and support his business had received to help offer these dinners to veterans. He fed close to 100 veterans that day, an event that was close to his heart.
Brent enjoyed simple things such as morning walks with Chloe, visiting with friends along the way. He often took her to the park to burn off her energy, and they had fun playing hide and seek (Brent hiding, Chloe seeking). Kayaking was a new love he found in the last couple of years; there was nothing like going out on the river when it was calm listening to his tunes. Music was a passion for him, and he could tell you anything about rock 'n roll. Most importantly, he loved watching his children play sports and hanging out with his family. He loved all of them fiercely even when times were a little tough.
He gave the best and biggest bear hugs. He was passionate about letting everyone know he was there for them, just a phone call or text away. He encouraged everyone to reach out and take care of each other, especially his veteran brothers and sisters. He urged other veterans not to give in to the war within, which is why it is exceptionally heartbreaking that he did. While we will never make sense of this loss, he would want to remind everyone that you are not alone. Call 800-273-8255 at any time.
Brent is survived by his children Danika and Xavier both of St. Maries and Glover Buell of Post Falls; parents Hugh and Margie Gannon of St. Maries; sisters Tia (Paul) Tracy of Soap Lake, WA and Annie Gannon (Matt McCoy and son Franklin McCoy) of Spokane, WA; brother Dustin (Juanita) Gannon of Beaverton, OR; grandpa Dewayne Boyd of the Tri-Cities; his beloved Chloe River and Shadow; numerous aunts, uncles, cousins, nieces, and nephews.
Military Honors will be presented on Friday, December 9, 2022, at 1 p.m. at Woodlawn Cemetery in St. Maries, ID. A Memorial Service will follow at 2 p.m. at the Elks Lodge in St. Maries, with a gathering of family and friends to share a meal afterwards. In lieu of flowers, please consider donating to the Veterans Outreach Center, either through the organization's P1FCU account or mail to PO Box 460, St. Maries, ID 83861.
Military Honors
1:00 pm
Friday, December 9, 2022
Woodlawn Cemetery
Hwy 5 And 23 Rd Street
St. Maries, Idaho, United States
Memorial Service
2:00 pm
Friday, December 9, 2022
Elks Lodge
628 Main Street
St. Maries, Idaho, United States
Share Your Memory of
Brenton