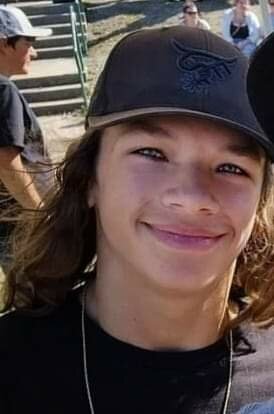 Obituary of Justin Wayne Howard
Justin Wayne Howard (15) passed away on November 26, 2022, at Sacred Heart Medical Center in Spokane, WA. Justin was born to Josh and Mellisa (McBride) Howard on May 3, 2007. From the moment he was born, his inner joy seemed to shine. Justin grew up in St. Maries attending Heyburn, SMMS, and SMHS. He was a kindhearted, fearless and adventurous kiddo who was all boy; often injuring himself in sports and other activities making him a perfect poster child for AFLAC.
When Justin was little, he would make his rounds throughout St. Maries impacting several people along the way. Such a handsome boy with a sweet and helpful personality and those stunning eyes, people of the community instantly fell in love with him. He often ventured out on his bike, and you could find him at the city park, Aqua Park, or the bike track. Justin also participated in the Nazarene Church's Youth programs. When Justin was little, his dad took him out hunting. His first doe he took, he army crawled across a huge field so he wouldn't spook it. He was also blessed with a buck the following year. He had a way with animals and was nicknamed the "Doe Whisperer" as he was able to call in any doe speaking their language. Although he hunted and fished, he had a love for animals, specifically his dogs. He wanted to become a Professional Bull Rider for a long time until he had an opportunity to ride a horse that wasn't broke, he changed his mind quickly about not becoming a bull rider, but it wasn't for a lack of trying.
A gifted and natural athlete, Justin didn't begin playing school sports until 7th grade. His first sport he played was Little League Baseball, and his first hit ever in a game was a grand slam with the bases loaded. He then went on to play football; however, a broken foot in 7th grade and COVID still lingering around in 8th grade put a damper on playing the sport. Justin made his debut playing football as a freshman, and he was good! He thought he would test his natural talent in 8th grade wrestling and to no surprise, he excelled in wresting, and he took 3rd at Districts. Recently he was ready to start JV Basketball when he broke his arm, he was looking forward to a season with teammates and making new memories. As Justin began to mature, he took pride working on his physique lifting weights and working out when he wasn't playing sports. Nobody knows how he obtained this physique with his nutrition; he was a junk food junkie living off of candy and Top Ramen which were his favorites.
Justin touched so many lives in his short time on earth, gone but never ever forgotten. He is survived by his parents Josh and Mellisa Howard of St. Maries; siblings Daniel Howard of Post Falls, Mia Nichols of Nevada, Curtis Key of Grangeville, and Kenzie McBride of St. Maries; best friend/brother Lynden Thompson of St. Maries; grandparents Harold and Tina Howard of St. Maries, Janette (Richard) Olson of Hawaii, and Dan and Sue McBride of St. Maries; uncles and aunts Jolene Howard of Nevada, Josh Blocher of Seattle; Heather (Daniel) Garner of Pennsylvania; Kansas Howard (Nathaniel Edwards) of St. Maries, Josh (Ashley) McBride of Deer Park, WA, and Jerry McBride of St. Maries. Numerous cousins and many many friends.
A Memorial Service to honor Justin's life will be on Monday December 19, 2022, at 11:00 am at the Nazarene Church Gymnasium.
Memorial Service
11:00 am
Monday, December 19, 2022
St. Maries Nazarene Church Gymnasium
175 Grandview Drive
St. Maries, Idaho, United States
Share Your Memory of
Justin