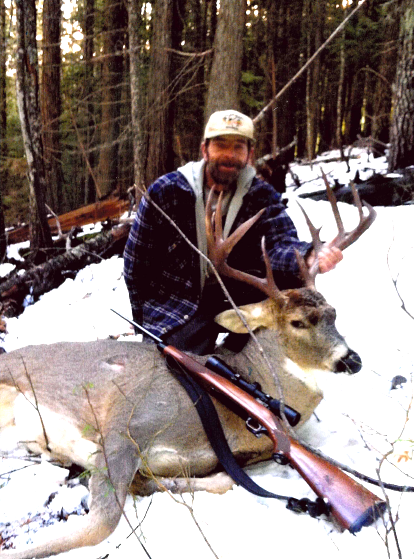 Obituary of Roy J. Green
Roy J. Green (63) resident of St. Maries, ID passed away at his home on December 9, 2022. He was born to Walter and Lola Green on July 23, 1959, in Coeur d' Alene, ID. Growing up Roy spent time in Coeur d' Alene, ID and Arlington, WA before his family settled in St. Maries. He attended high school in St. Maries while he worked for Erickson's Gas Station.
Following high school, Roy went to work for Potlatch Corporation. He and his girlfriend at the time and soon to be wife Taresa Ryan ventured to Valdez, AK where he worked on a fishing boat as a mechanic, cook, and all-around handyman. Roy was very fond of the time he spent in Alaska and spoke about it often. When they returned to St. Maries, the young couple married in August of 1983 and started their family. Roy and Taresa became the proud parents to Heather, Wesley, and Shelby.
Roy, along with his good friend Gene Binkley, built a beautiful log home on property just outside of St. Maries in 1994 for his family. He established his own logging company, St. Joe Salvage Logging, and was contracted through Potlatch for many years. Roy was honored when he earned the recognition of "Logger of the Year" two years in a row for Potlatch. He took immense pride in his work and referred to his logging jobs as his "gardens". Roy was one of the hardest working men you ever had the pleasure of meeting, sometimes working from daylight to dark 7 days a week.
Roy was an avid outdoorsman, always harvesting mature whitetail bucks and several elk throughout his life. He spent many weekends on Priest Lake with his children catching "macs" out of his beloved boat, "Mikey-Do-Likey". He also enjoyed spending weekends at the Fossil Bowl in Clarkia, ID watching his son race dirt bikes. Roy was always young at heart and could usually keep up with or outdo his kids in most activities. Roy also took pleasure in gardening, researching Bigfoot encounters, baking his famous peanut butter cookies, and he especially enjoyed muscle cars. His 1969 Oldsmobile 442 with a 400 big block was his pride and joy. He was the second owner of it and spent many long hours restoring and painting that car. He knew all there was to know about the muscle car era; in fact, Roy knew a lot about just about everything. He was a very wise, intuitive man who could come up with a solution for just about any problem.
In 1999 Taresa and Roy divorced; however, they remained the best of friends. Roy later met Lori Hewson and had daughter Lola in 2003. In 2006, Roy suffered from an on-the-job injury that forced him into early retirement. Roy developed his property up Cherry Creek in 2012 and spent his days doing what his body allowed. He spent many years creating beautiful wooden crafts with his scroll saw and was passionate about cutting firewood. Cutting firewood was his way of "manicuring" the forest that he so deeply loved. Roy was always a busy-body and usually had several ongoing projects at any given time. One of his most recent hobbies was coin collecting, and he spent countless hours skimming through thousands of pennies. He was a member of both the Elks and Eagles Lodges in St. Maries, the Harrison Grange, the NRA, and was a very proud Constitutionalist and American.
"Yor Neerg" was a chatty and outgoing man, making friends everywhere he went. He coined many phrases such as "yeeb", "cheese moment" and "green waver". His sense of humor and goofiness was infectious; he could put a smile on anyone's face and light up any room with his wit and good heartedness. He looked for the good in everyone and was a firm believer that we should always treat others how we want to be treated. He was a well-respected man who impacted many lives.
Roy was a family-oriented man and loved to spend time with his family, whether it be fishing, hunting, or simply enjoying a cup of coffee. Roy devoted his life to being the best father possible, and his children were so proud of their dad for being so brave and resilient in the face of life's continuous challenges. He was an amazing father who instilled many values into his children's lives. The love that his family and friends have for him runs deep, and his memory will forever be cherished. The legacy of the "cool Geen dude" will live on endlessly.
Roy is survived by his children Heather (Zac) LaPierre of Rose Lake, ID, Wesley (Kassi) Green of Pinehurst, ID, Shelby (Ryder) Hansen of Pinehurst, ID, and Lola Green of Moscow, ID; the mothers of his children, Taresa (Rance) Epler of St. Maries, ID and Lori Hewson of Post Falls, ID; his beloved dogs Emma and Bandit; and two grandchildren, with another one on the way. He is preceded in death by his parents.
A memorial service to celebrate Roy's life will be held on Saturday, January 7, 2022, at 11:00 am at the Elks Lodge in St. Maries, ID. A gathering of family and friends to share a meal will follow.
A Memorial Tree was planted for Roy
We are deeply sorry for your loss ~ the staff at Hodge Funeral Home
Services for Roy Green
There are no events scheduled. You can still show your support by planting a tree in memory of Roy Green.
Plant a tree in memory of Roy